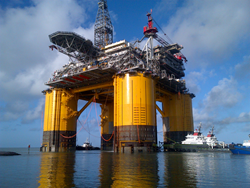 This was an amazing project that aligned extremely well with our fabrication, rig up and commissioning capabilities. - Brian Shanklin - Pres. LoneStar Energy Fabrication
HOUSTON, TX (PRWEB) April 29, 2015
Recently, LoneStar Energy Fabrication (LSEF) completed work on the $5.1 billion Big Foot drilling platform that is now ready to begin drilling in the Gulf of Mexico. This was the largest project in LSEF's history, and the company was the primary fabricator of the 4,600HP modular drilling rig. The extended tension-leg platform (ETLP) is the industry's largest and will operate in the Bigfoot oil and gas field, 225 miles south of New Orleans at a depth of 5,200 feet.
The project took LSEF two years to complete and tapped into the company's 100 years of combined experience in the fabrication and rig up of offshore rigs, helidecks, modular living quarters and offshore buildings for the oil and gas industry.
"Big Foot is now onsite being moored and should begin drilling soon," stated Lone Star Energy Fabrication's President, Brian Shanklin. "This was an amazing project that aligned extremely well with our fabrication, rig up and commissioning capabilities. We had to compete against other, larger, more experienced and better known fabricators to win the Big Foot contract, but our proven ability to deliver high quality work, on time and within or under budget helped us win the job."
Gargantuan does not begin to describe the size of the Big Foot project. The platform cost approximately $5.1 billion, will house 200 workers, and has the capacity to produce 75,000 barrels of oil and 25 million cubic feet of gas per day. Standing more than 40 stories above the Gulf of Mexico and weighing in at more than 8,200 tons, it will operate in 5,200 feet of water. At that depth pressures exceed 2,325 pounds per square inch.
Big Foot was not the first large offshore project for LSEF. The company also served as the primary fabricator for the $5 billion Olympus project that required more than 650,000 man-hours to complete. Olympus is now in operation 130 miles south of New Orleans and is known as the Mars B TLP DVA rig.
Located on 40 acres in the Cedar Crossing Industrial Park, just 20 miles south of Houston near the Houston Ship Channel, LSEF is perfectly located to work on jobs like Big Foot. With direct access to the Houston Ship Channel, as well as rail and air transportation, the company can tackle onshore and offshore as well as international projects of any size.
"We specialize in modular units that encompass rigs, living quarters and helidecks. As an example, the average sleeping quarters we build accommodates 100+ workers with sleeping, shower and galley facilities," explains Shanklin. "When a job is completed it can easily be lifted by cranes and loaded onto barges to move into the Gulf or shipped out via rail or truck."
The company has more than 100,000 square feet under roof and is a certified facility that complies with the most rigorous standards in the industry that includes: ISO 9001, API Q1, ABS (American), BV (French), DNV (Norwegian), SOLAS (British and USCG (American).
In addition to being one of the largest fabrication and rig up yards in the Houston area, it is also one of the top 10 located on the Gulf Coast. The Cedar Crossing complex provides Lone Star unlimited growth potential with 15,000 acres of raw land surrounding the existing facility.
Shanklin has a unique, but very valuable, background. "I started out working as a roughneck on an offshore platform rig. That gives me a unique perspective that very few people who build rigs have. I grew up in the business. I understand what the front line workers have to do on their jobs and how they live on these platforms," says Shanklin. "You can't get that perspective from a university or from talking to an engineer or reading about it. When you have lived on a platform a couple hundred miles from shore, like I have, you understand how important safety and quality construction really is," he emphasizes.
LSEF has completed large projects in the past, has others underway and still more in the pipeline. The company just completed work on one 3,000 HP platform rig for a large Mexican oil company, and a second is being completed, tested and commissioned. Work is also underway on two 120-man living quarter projects along with work for other major oilfield service providers. LSEF was also a prime contractor on the Olympus project, completed in 2012 which was also one of the largest ETLP projects in the Gulf of Mexico.
While the recent drop in oil prices has had a major impact on shale drilling and related services, it has had a minimal impact on LSEF, because large oil and gas companies, LSEF's primary customers, have had major project budgets in place for years, and most will be completed with the anticipation of higher oil prices in the future. Deepwater drilling and production are long term, multi-billion dollar projects that take several years to complete and are not impacted by short-term fluctuations in oil prices. Some experts even predict resurgence in Gulf oil drilling and LSEF is well positioned to benefit from future projects.
"We also do work for other companies around the world and the combination of offshore, land-based, and international work helps to stabilize our project load and ensures work continues to come in," explains Shanklin.
Shanklin actually sees the downturn in the oil industry as an opportunity to attract high quality employees. "We are only as good as the people who work here," he explains. "Most of our team has been built through referrals from existing employees. With the recent downturn, a lot of smaller fabrication companies have been forced to lay off highly qualified employees and our existing team members notify us when they identify a potential employee and we pick from the best available. We have built an excellent team with a broad range of certified skills that helps us continue to win contracts."
LSEF has big plans for the future. "I believe we have established that we can deliver extremely large high quality projects, on time and within budget, and that is our foundation to grow the company," Shanklin explains. "I believe the key to our future is to build upon our high quality, cost control culture, and focus on maintaining our safety record. Safety is paramount in this industry. You have to protect your people if you want to become an industry leader. We have made good inroads into international markets and I see LoneStar growing its international business significantly in the coming years," he concludes.
ABOUT LONESTAR FABRICATION:
LoneStar Energy Fabrication has more than 100 years combined experience in the design, fabrication, rig-up and commissioning of offshore rigs, land rigs, helidecks, modular living quarters, offshore buildings and oilfield components for the oil and gas industry. Its state-of-the art facility (with over 100,000 square feet under roof) is strategically located in the Cedar Crossing Industrial Park, giving it access to ports, terminals, Houston Ship Channel, rail lines, and air transportation. LoneStar has one of the largest fabrication and rig-up yards in the Houston/Galveston area and one of the top 10 in the gulf coast, allowing it to complete projects of any size and scope. To learn more about LoneStar Energy Fabrication please visit the website at http://www.lsenergyfabrication.com.
FOR MORE INFORMATION:
Bruce Condit
Condit Communications
214-734-3602
bruce.condit(at)verizon(dot)net