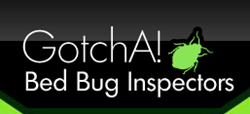 Complete Bed Bug Detection An Imperative As Studies Shows Growing Resistance Of Bed Bugs To Insecticides
Long Island, New York (PRWEB) November 18, 2013
As bed bug infestations have increased over the last few years, the invasive pests are developing a resistance to many of the pesticides being used commonly. Because of this, the team at Gotcha Bed Bug Inspections is stressing the importance of complete inspection and detection of any infestation so that treatment can be evaluated to ensure complete removal of all.
In a recent study conducted and documented at the University of Kentucky Department of Entomology, as bed bugs evolve they are developing a resistance to some of the more commonly used insecticides. While this is hardly unique among the insect world, as most New Yorkers can attest to in terms of cockroaches, it does make the process of removing the offending "guests" from home or office. It is for this very reason that having the most complete inspection performed is vital to the eventual treatment.
Gotcha Bed Bug Inspections understands the need for complete detection and their use of bed-bug sniffing dogs, a detection technique that was endorsed in a 2008 study by the University Of Kentucky Department Of Entomology as one of the best and most complete ways to detect bed bugs. As the report also qualified that the bed-bug sniffing dogs need to be properly trained, all of the Gotcha canine technicians are fully trained and each inspection is supported by a visual certified technician inspection as well. This complete inspection process will allow home and business owners to understand what level of treatment is necessary, and if the infestation is isolated to certain locations, make sure that a targeted treatment is performed to ensure complete removal of the pest.
GotchA! Bed Bug Inspectors are a Nassau County-based business offering bed bug inspections and consulting to clients living in all five boroughs of New York City, Long Island (Suffolk & Nassau) and Westchester County. Additionally, they can serve other areas in the metro-New York region upon request. GotchA! Bed Bug Inspectors provides their valued customer, with an independent, trustworthy, and precise solution to their pest control needs. Among the services offered are 24/7 Live Customer Care, Bed Bug K9 Inspections, Bed Bug Prevention, Free Estimates, and a 30 Day Guarantee with All Residential Inspections. Available 7 Days a week, they are available around the clock to offer affordable, caring, and trustworthy service. GotchA! Bed Bug Inspectors take pride in educating their clients so that the best choice can be made based on the current situation. Contact them by phone, toll free, at 1-855-GO-GOTCHA or online at http://www.gotchabedbuginspectors.com.