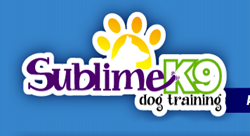 Long Island Dog Trainer, Sublime K9 Dog Training Stresses Care When Giving Canines as Holiday Presents
Long Island, New York (PRWEB) November 27, 2013
Sublime K9 Dog Training, a dog training school based in Wantagh, NY, is urging that anyone planning on giving a puppy as a present this upcoming holiday season to make sure that, along with all of the necessary shots and papers provided, information about, and possible initial sessions of, dog training are also part of the gift.
Each year, parents and grandparents want to truly surprise their children and grandchildren with the present of a furry new friend. However, once the initial excitement wanes the reality is that this new little addition to the family needs to not only be cared for but properly trained to ensure that the gift is always appreciated. Too often, in the months following the winter gift giving season, animal shelters find themselves the recipients of puppies that have gone from being exciting presents to being hard work.
Often, these changes of heart revolve around the family attempting to train the puppy themselves. While there efforts are sincere, not everyone is capable of or has the patience to train a puppy properly, By engaging training professionals like the team at Sublime K9 Dog Training, new puppy owners will take a positive step in not only getting the proper training for their new little one but also be able to educate themselves as to what is required from them to ensure a happy puppy. For those giving the gift of a new puppy, including as part of the gift the initial training sessions can ensure that everyone gets off on the right foot.
Sublime K9 Dog Training, a dog training school located in Wantagh New York, was established by Jessica Freedman with the goal of providing customized training programs to suit the individual needs of each dog and their family. A graduate of the National K-9 Learning Center where she earned her designation as a Certified Professional Dog Trainer, Jessica has over 10 years of experience as a dog trainer. A professional member of International Association of Canine Professionals, her love for canines has also led to work in the veterinary field and as a dog walker to learn as much about dog's health and wellness as possible. It is this combination of training, experience and dedication that has made her a respected member of the canine training profession.