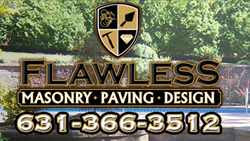 Smithtown, New York (PRWEB) August 03, 2013
A Local Long Island Masonry Company, Flawless Masonry, is celebrating 10 years in business. Flawless Masonry is fully licensed and insured in Suffolk County, Nassau County, South Hampton, East Hampton and the 5 Burroughs. They offer a wide range of services that include building patios, poolscapes, driveways, walkways, stoops, steps, landscape design, brick, stone veneers and outdoor kitchens.
Over the last 10 years Flawless Masonry was recognized by Cambridge Paving stones as one of the largest installers of Cambridge Pavers and Retaining Wall blocks on Long Island in 2010 & 2011. They have also been involved in local community projects on Long Island such as the Eagle Scouts, St Jude Sanctuary and The Smithtown Library. On their website Flawless Masonry shows beautiful photos of completed residential and commercial masonry projects that they have built over the last 10 years.
Masonry and landscape design is a complex process, It involves putting the right elements together, both physical and natural, in a way that they can exist in perfect harmony. Choosing the appropriate material from stone, bricks, pebbles or wood that will suit your personal taste and that are also suitable for a given climate can be challenging as well as fun. The tricky part is also to determine what to do with certain sections of the property. Depending on how extensive the plan is, it can take weeks to months to complete the project. Once the job is completed is will add tremendous value to the home as well as giving it a nice curb appeal.
Flawless Masonry provides high tech computer animated design. They offer visual plan of what a property looks like with the proposed changes. This gives customers chance to fully visualize their yard before the construction begins. This plus expert craftsmanship and attention to detail kept Flawless Masonry in business for 10 years and counting.
For a complete list of their services and sample designs, visit their website http://www.flawlessmasonry.com. They can also be contacted by calling: 631.366.3512