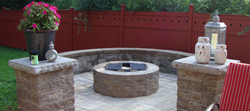 Eco-Friendly Fire Pits Offer Solution for Homeowners Seeking to be Environmentally Sensitive
St. James, New York (PRWEB) January 09, 2014
Longos Landscaping and Masonry, the premier Long Island-based designer and builder of custom landscape & hardscape for homes and businesses, is keeping track of the developments in the area of eco-friendly fire pits for those homeowners looking to avoid burning wood. As detailed in a report on CBS News San Francisco's website, the San Francisco area has experienced over 20 "Spare the Air" days already this winter, the possibility that similar government action could come into effect in the Long Island region as the move toward green living continues. "Spare the Air" days involve the banning of burning of wood in fireplaces and fire pits due to heightened air quality concerns. Similar bans are beginning to spread throughout the United States and in Europe.
Nothing is as inviting as a roaring fire pit in the cool evenings of spring, early summer and fall on Long Island. Over the last few years fire pits, chimineas and even outdoor fireplaces have become more common in backyards across Long Island. While many burn composite logs that are readily available in a variety of stores, many more opt for the more natural warmth and effect of real wood. However, as with any organic item that may be burned, the smoke and ash caused by burning wood can be detrimental to air quality and contribute to concerns about the potential for acid rain from the fire by-products entering the atmosphere.
The most prevalent alternative is the use of natural gas or bio-fuels as these are abundant in nature and do not cause the deforestation that occurs when trees are cut down for firewood. Natural gas and alternative fuel fires require a refillable tank that is usually put somewhere inconspicuous but easily reached for refueling. Fires fueled by natural gas and bio-fuels are easier to start and extinguish, do not create floating ash and cinders that can drift off on a breeze and possible cause other fires and also do not put off the same fumes and residue. The last aspect is especially important in neighborhoods where houses are closer together and neighbors may not want to deal with fumes or floating, flammable debris.
The Longo Landscaping & Masonry team are experts at installing fire pits and backyard fireplaces and are able to advise clients on all aspects and alternatives to these backyard staples. Their expert staff can recommend alternatives fuel fire pit options, discuss the work involved in installing them and provide estimates for costs and work times. They strongly recommend that DIY-ers leave the installation of alternative fuel fire pits and backyard fireplaces to professionals who are certified in not only installing these intricate systems but also in ensuring that there are no leaks that could cause potential problems in the future. It is also strongly recommended that anyone looking to install any type of permanent fire pit or outdoor fireplace consult with local safety and government officials to understand what legal requirements may be needed prior to installation.
Longos Landscaping & Masonry, a Long Island family-owned company since 1980. Longo's Landscaping & Masonry Inc. is committed to excellent masonry and landscaping projects. Specializing in Landscaping & construction, Masonry, Driveways, walkways, stoops/steps, patios, retaining walls, waterfalls & ponds. With over 20 years of experience, we pride ourselves in making your homes in Suffolk and Nassau County of Long Island area more appealing. Each Landscape design is specifically done to our clients' needs to increased property value or simply, just a gorgeous outdoor landscape that can make your property the best on the block. Find us on the web at http://www.longoslandscaping.com/ or call at 631.862.8605 for more information or to arrange for a quote.