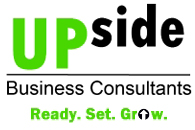 Providing solutions to your customer's most pressing issues that no other company is offering is a great way to differentiate yourself from the competition.
Hauppauge, New York (PRWEB) July 30, 2014
There has been an uptick in Long Island's re-emerging economy. In June, 2014, the New York labor department reported that Long island's private sector jobs increased over the year by 18,400 (1.7 percent), to 1,120,900 in June 2014. This solidifies that businesses are growing and Long Island is on the verge of further growth. That's good news for small business owners, but it is also a warning to be prepared. As the economy grows, the market also becomes more competitive. Companies that aren't prepared could easily fall to the wayside.
Doug Betensky, President of Hauppauge, NY based Upside Business Consultants, a leading Long Island marketing firm, says that business owners can thrive if they have the right strategies in place. However, they must be able to stand out from the rest.
"Competing for and winning new business can be a great challenge, especially in a competitive market," says Mr. Betensky. "Often times, people use pricing as a magnet to attract more business. In order to separate yourself from your competition, you must be willing to differentiate yourself on other aspects of your business by providing something your competitors currently do not or can not offer. This will make your business model difficult to replicate."
In a recent published article entitled "6 Essential Ways Small Businesses Can Differentiate To Survive In A Competitive Market," Mr. Betensky shares useful tips on how business owners, on Long Island, in NYC, and beyond, can maximize their business by being different.
In one of Mr. Betensky's tips, he explains the importance of not just making an offer unique but also making it profitable. "Slashing prices and heavily discounting a product or service may have a reverse affect, resulting in decreased margins and a perception that customers should wait for discounts to make a purchase," says Mr. Betensky. For a retailer, instead of offering a percent off or a discount offer, an incentive that rewards the purchase of a larger basket size or provides a gift card with a minimum purchase amount may be healthier alternatives.
When it comes to launching a new product or embarking upon a new market, Upside's Long Island marketing consultants advise business owners and executives to ask themselves: "Am I really offering something different," or "Am I solving a big problem?" If not, a business is more likely to struggle to gain traction. Mr. Betensky suggests that companies pick a niche that can become a profit center. "If you are in a crowded market, own a profitable niche with less competition, and then expand from there," says Mr. Betensky.
Upside also explains that it's not enough to "be different". You must project something that's unique. "Even if you sell a similar product to your competitor, you can outshine them by differentiating your business through your branding, your messaging and the channels you use to reach your audience. Big brands, such as insurance companies, do this all the time," added Mr. Betensky.
Mr. Betensky goes on to explain how business owners can use their marketing collateral, promotional materials, videos, images, color palette, fonts and your brand voice to stand out.
To read Upside's article in its entirety, go to: http://upsidebusiness.com/blog/2014/07/21/6-essential-ways-small-businesses-can-differentiate-to-survive-in-a-competitive-market
For direct assistance, call Upside at (516) 610-0922.
About Upside Business Consultants:
Upside Business Consultants is a Long Island marketing firm located in Hauppauge, New York. The company specializes in marketing consulting, marketing coaching/training, social media marketing and management, search engine optimization, video marketing and internet marketing. Upside is known for helping small business owners thrive in a competitive marketplace.