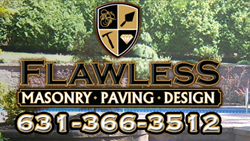 Long Island Masonry Company, Flawless Masonry Gives Back to the Community
Smithtown, New York (PRWEB) November 11, 2013
Local Long Island masonry company, Flawless Masonry, has taken their services to a new level, helping and giving back to the community. This Smithtown-based company has remarkable reputation for its exceptionally distinct designs and truly impeccable and flawless masterpieces. Flawless Masonry offers expert skill and craftsmanship in a seemingly endless list of specialty areas, which includes patios, poolscapes, driveways, walkways, steps, retaining walls, veneers, kitchen design, as well as fireplaces and fire-pits. Nowadays, however, Flawless Masonry is taking their name one, giant leap forward, giving back to Long Islanders and taking part in community projects.
When Eamon Phelan, leader of the Eagle Scouts in the Smithtown/Hauppauge area, contacted Flawless Masonry with a new idea and challenge, Flawless Masonry took a firm grasp on the reigns and embraced a unique opportunity. As a customary rite of passage for graduating Eagle Scouts (the highest rank of Boy Scouts), they must take charge of proposing, developing, and carrying out a significant community service project. Flawless Masonry and Phelan's class of Eagle Scouts partnered together to design and build a serenity walkway at St. Thomas More Church in Hauppauge, NY. This dedication to Saint Jude included a pathway, stunning granite benches, and a reverent platform which now dons the St. Jude statute. Eagle Scouts and Flawless Masonry's masons, alike, worked alongside one another, under the brutal and relentless summer sun, to give the St. Thomas More Church Community a magnificent addition to their grounds and faith.
Flawless Masonry also headed another community project for Smithtown, at their newest public library. This project was geared towards giving the Smithtown Community a library that also offers itself as a place of comfort, warmth, and tranquility, through the aesthetics of masonry. Flawless Masonry began this effort on the outside with a gorgeous path and curved walkways, which lead to a striking gazebo, offering itself as a meeting place for Smithtown residents. Inside, Flawless Masonry crafted an extraordinary fireplace, with a stone veneer, as the focal point within the library.
Representatives from Flawless Masonry stated that not only were they honored to be a part of community projects such as the aforementioned, but that it was an incredible feeling for all of those involved, to be able to give to the community. It gave the company and all of the employees a chance to display their talent on a larger level, but it was humbling to work alongside community members. Flawless Masonry is eager to take part in more community projects, knowing their work will be enjoyed by countless individuals and for so many years to come.