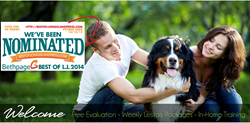 Long Island Pup Trainers, Sublime K9 Dog Training introduces a new puppy course for young pups.
Long Island, New York (PRWEB) October 29, 2013
The course is a series of five in home training lessons for puppies 8-16 weeks of age. A certified professional trainers will come to a clients home, one hour per week, to work with the puppy to establish leadership, boundaries, and a crystal clear set of rules from the beginning of their lives together. The ages of 8 to 16 weeks are a critical time for learning and socialization. During this period, puppies can develop up to 90 percent of their attitudes toward people, other animals, and their environment. Avoid common behavior issues and learn from the pros how to raise a happy, healthy dog. People often ask how old can they begin training their puppy?  The answer is "NOW".  Typically people get a puppy at 8 to 16 weeks of age and think they need to wait to begin training.  In actuality, the younger clients begin working with them the better.
At Sublime K9 Dog Training, we recommend beginning marker training with the dog right away.  Marker training is a force free method of training that gets the puppy thinking and can be used at any age.  Once the puppy learns the rules of marker training it is like a game to them that they get to play with their owner, their favorite person.  Not only is it fun for the owner and the pup, but it teaches impulse control and basic commands.
Throughout the course, a certified trainer will teach all of the rules of marker training as well as cover topics that are relevant to the dog and the situation. Some of the other topics that will be covered are housebreaking, manners, and preventing bad behaviors.
At Sublime K9 Dog Training, we have had great success using this method on young puppies. Our client's dogs have grown up and gone on to pass the AKC Good Citizen test and have a lower rate of developing behavior issues than a dog that has not been through the program. Contact Sublime K9 Dog Training at 631-241-6482 for more information.