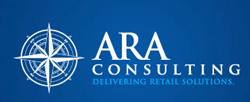 Plainview, New York (PRWEB) April 06, 2014
ARA Consulting, a Long Island-based retail management consulting firm established in 2012, proudly announces the launch of their new website at http://www.araconsultingcorp.com. As the first major step in establishing digital presence, this new site will be a portal for new clients to learn about the company, their capabilities and how they can help retail operations of any size to increase profitability and success.
For over 30 years, Andy Arluck has worked as a retail management professional, climbing the corporate ladder with such stellar retail giants as Saks Fifth Avenue and Tourneau LLC. Working both in the customer-facing store environment and then in the back office executive suites, Andy has developed a depth of knowledge and vision that has been the basis of his successful career. Over the last 10 years, a desire to branch out and offer the benefit of his knowledge and experience on a broader scale to retail operations of all sizes led him to establishing ARA Consulting in 2012. Since then, the business has steadily grown to become a major player in the retail consulting arena in the greater New York region. Always part of the plan was to establish the necessary web presence that would allow ARA Consulting to extend its reach and provide prospective customers with a source of information about ARA Consulting and how they could benefit from ARA's consulting services.
Working with Benjamin Marc, the premier web and graphic design firm serving Long Island and the Greater New York region, ARA Consulting worked on translating their vision into the ideal web presence. The team at Benjamin Marc, after sitting with Andy to discuss his company and his vision, set to work to create the ideal website for ARA Consulting. The result is a professional and inviting website that exudes the confidence and vision of Andy and his team. With an easy-to-navigate design that allows site visitors to move freely and easily find the information they are looking for, the ARA Consulting team is excited about the potential growth this site will afford them.
Established in 2012, Long Island-based Retail consulting firm ARA Consulting is led by Andy Arluck. Andy has over 30 years' experience working in executive positions with Saks Fifth Avenue and Tourneau LLC. His passion for retail has resulted in the successful attainment of organizational goals through developing and implementing strategic plans with the dynamic teams he has pulled together over the 30 years he has been working in this field. Having worked both sides of the retail management field, Andy has developed insights and experience from both the customer-facing and corporate arenas, allowing him to provide in-depth knowledge as he teaches, coaches and works with clients to achieve the goals of their organizations. Having worked with several businesses throughout Long Island, NYC and the greater New York Metro region, Andy has the breadth of vision to help any retail operation achieve goals regardless of their geographic reach or product depth. Visit the ARA Consulting website or call at 516.330.0573 to set up an appointment for an initial consultation.