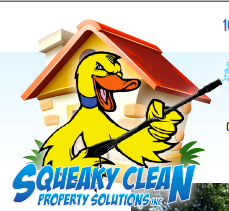 Squeaky Clean Property Solutions proudly announce the launch of new website at SqueakyCleanLI.com.
St. James, New York (PRWEB) February 01, 2014
Squeaky Clean Property Solutions, the premier provider of exterior cleaning services for residential and commercial structures for the entire Long Island community, is pleased to announce the launch of their new website at http://www.squeakycleanli.com.
Established over 10 years ago, Squeaky Clean Property Solutions has been helping home and business owners maintain the exteriors of their structures offering cleaning services that not only make homes and businesses look visually appealing but also helps to maintain the health and longevity of the buildings as well. Just like the exteriors of the vehicles we use every day, components that make up the exteriors of the structures that house families and businesses must be kept in good working order to ensure the building integrity but also to prevent unnecessary repair expenditures that can affect the bottom line of families and businesses alike. Squeaky Clean Property Solutions offers services such as power washing, gutter maintenance, deck washing, restoration and roof cleaning on Long Island to name a few.
The teams at Squeaky Clean Property Solutions had made initial forays into the digital marketing world with basic websites but were never pleased with the design. As the world has become more digital centric, they realized that they needed a web presence that presented the basics of the services they provided as well as serving as a portal by which new customers could find their company and learn about their extensive history. Simultaneously, they wanted a website that presented their corporate personality in a clean and welcoming fashion. Working with ALogoCo, a Miami,FL-based web and graphic design firm with extensive experience serving companies along the entire east coast of the United States, the new website was conceived with the goal of it being an inviting web presence. The clean design and visitor-friendly navigation combined with a digital representation of the relaxed corporate personality of Squeaky Clean Property Solutions was exactly what the company was looking for.
Squeaky Clean Property Solutions, specialists in cleaning the exteriors of both residential and commercial structures, provides their services to the entire Long Island Community from their headquarters in Saint James. With over 10 years' experience, they have amassed a loyal and satisfied customer base that has grown steadily each year. Using state of the art equipment and the most modern processes, they provide services such as exterior power washing, gutter maintenance, roof stain removal and deck washing & restoration to name a few. Fully licensed and insured, they provide quick and courteous service to residential and commercial customers with along with free, no-obligation detailed estimates before the work is started. Squeak Clean Property Solutions can be found on the web or they can be reached by phone at 631.387.2156.