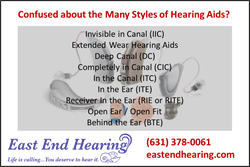 Long Island, New York (PRWEB) October 16, 2013
Hearing aids can be hard to research because of the vast amount of new vocabulary and acronyms used to describe them. It is particularly hard for the first time hearing aid buyer. To clear up some of the confusion, East End Hearing published a quick reference list of popular Long Island hearing aid designs and vocabulary on their site titled Essential List of Hearing Aid Types and Acronyms.
The guide includes basic information on the most popular hearing aid types including Invisible in Canal (IIC), Completely in Canal (CIC), In the Canal (ITC), In the Ear (ITE), Half Shell (HS), Receiver In the Ear (RITE) or (RIE), Open Ear / Open Fit and Behind the Ear (BTE).
When all the hearing aid types are written next to each other, it is easy to see why shoppers have difficultly distinguishing them. Many of the names and abbreviations are very similar. The guide written by East End Hearing is one step in the right direction toward clearing up some of that confusion. While noting that online research is an important step in selecting the ideal hearing aid, Audiologists would caution potential buyers that there is a lot of additional information to be obtained by seeing a hearing care specialist. The Audiologists help shoppers narrow the options by asking about activities, lifestyle and the environments in which the hearing aid will be used. These are all essential aspects in choosing the best hearing aid.
About Dr. Lynn O'Bray-Donohue
Dr. Lynn O'Bray-Donohue is a New York State Licensed Audiologist and Hearing Aid Dispenser providing excellent hearing testing, hearing protection and fitting of hearing aids on Long Island since 1987. She is the co-owner of East End Hearing. Outside of the office, Dr. Lynn O'Bray-Donohue provides audiology services to the Cleary School for The Deaf, the Just Kids Early Learning Center and the Brookhaven National Lab. Dr. O'Bray-Donohue received her Masters degree in Audiology from the Adelphi University in Garden City NY and her Doctor of Audiology degree from A.T. Still University-Arizona School of Health Sciences. She is a Fellow of the American Academy of Audiology and of The Academy of Doctoring Audiologists.
About East End Hearing:
East End Hearing was founded in 1991 to help Long Island residents get more from a local hearing care provider. East End Hearing continues the tradition of better hearing through education, technology, and customer service. Collectively, the staff at East End Hearing ensures that patients will receive unrivaled, professional, and personalized care tailored to each person's unique needs. East End Hearing has two Long Island locations in Port Jefferson Station and Smithtown NY staffed by 3 Doctors of Audiology - Dr. Lynn O'Bray-Donohue, Dr. Michael Qualley and Dr. Diane Davis. East End Hearing is the only local private Audiology Clinic whose full-time practitioners are also the owners each with over 25 years of experience.
Contact:
Dr. Lynn O'Bray-Donahue
East End Hearing
4747 Nesconset Hwy, Ste 8
Port Jefferson Station, NY 11776
(631) 378-0061
East End Hearing
61 Route 111
Smithtown, NY 11787
(631) 206-6564