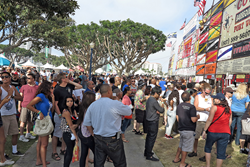 Just let them try to beat me. Porky-N-Beans has won 22 titles just this year alone. Let the battle begin.
Long Beach, California (PRWEB) August 21, 2015
Things to do in LA (Los Angeles):
Long Beach BBQ Festival
When is the festival:
August 28-30, 2015
Friday, August 28th - 5pm – 11:00pm
Saturday, August 29th - 12noon – 11:00pm
Sunday, August 30th - 12noon – 8:00pm
Where is the festival:
Rainbow Lagoon
400-403 Shoreline Village Drive, Long Beach, CA 90802
Things to do at the festival:
Taste and experience firsthand the fiery chicken, pulled pork, tri-tip, pork ribs, sausages, and sides that make barbecue so popular in the USA — all while enjoying live music, dancing, cantina, a live sports tent, children's stage, artisan exhibitions, e-souvenir photo, food court, games, all can eat rib village.
Entertainment on stage —
Grand Junction, Texas House Party, Stone Soul, Men In Crisis, Bonne Musique Zydeco, California Feetwarmers, The Bill Magee Blues Band, and Lazy Brad Lewis.
Ticket Information:
$12 one-day general admission ($15 at the gate)
children under 12 free (does not apply to rib village)
includes souvenir e-photo, does not include food, drinks or all can eat rib village.
Special admission discounts and packages available only online.
Sponsors of the 5th Annual Long Beach BBQ Festival include: Long Beach Sea Festival, DirecTV and Shock Top along with National Parkinson Foundation - Moving Day Los Angeles.
Press Inquiries/Kit: press@longbeachbbqfestival.com