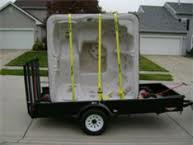 (PRWEB) January 18, 2014
Melrose Moving Company has released a blog offering tips for packing and wrapping a hot tub in Long Beach.
Packing and wrapping a hot tub requires time, patience and several moving materials. A list of tips and guides are always recommended before attempting to pack a hot tub. Clients should also use the user's manuals as often as they have too. Before packing, a hot tub has to be disconnected from the water source and disassembled into smaller pieces. This can be difficult without the help of the manual.
Before packing a hot tub, some planning and organizing is essential. Clients will have to clean their hot tub, then disconnect it from the water source. After which they will need to clear a path to the doorway or to the van, if the hot tub is outside the house. Some smaller components have to be taken off and packed separately. Clients can pack these into a box which they should label. Some parts are fragile and wrapping them in paper is recommended.
There are some materials that provide excellent protection from scratches like shrink wrap or bubble wrap. Blankets or other soft materials can be used to cover the hot tub and protect it against bumps. It is also essential to securely fasten the tub to the floor of the van. Clients can also call a Long Beach moving company to pack their hot tub. Movers provide excellent packing services and they have professional tools which allows them to pack valuables a lot faster.
"By calling a Long Beach moving company, clients can have their hot tubs packed in just a few minutes! Long Beach movers provide excellent packing services at affordable prices," said Russell Rabichev, Marketing Director for Melrose Moving.
Melrose Moving Company is a Los Angeles-based residential and commercial moving company. Originally established in 1999, and has been so popular that the owner started various other moving companies, such as 1 Los Angeles Movers, Movers Los Angeles, and Los Angeles Commercial Movers, all of which are operated by Melrose Moving. The moving company is licensed by the Public Utility Commission (PUC), and has an A rating with the Better Business Bureau (BBB). Melrose Moving accepts cash, checks, credit cards, and Paypal.
For more information, click on http://www.movingcompanyinlongbeach.com. Call now: 1.800.431.3920.