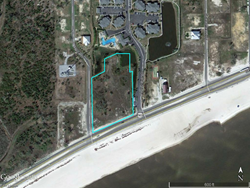 Long Beach, MS (PRWEB) February 28, 2014
Online real estate auction company Micoley.com, leads the industry for online real estate auctions nationwide, and has no plans to change locations. However an amazing place to open a business just caught their eye, and they don't want this opportunity to go unseen. For anyone in the search of a great commercial spot to get a foothold in retail, or just a gorgeous place for an office building, this commercially zoned land in Long Beach, Mississippi hits all the marks.
This is just one standout in their auction for March, which includes a vast number of properties of all types. There is undeveloped land up for sale, along with apartment buildings, single family homes, and more. This event, number 3000, will occur on March 22, and auctions will begin at 11:00 a.m. central time. Opening bid for this 3.04 acre parcel across from the Gulf of Mexico is set at $375,000.
If you aren't in The South, perhaps you don't know much about the waterfront culture of the Gulf Coast. Just an hour away from New Orleans, via the world famous I-10 Twin Span Bridge, and only eighteen miles from the riverfront fun of Biloxi, Mississippi, the area has a thriving tourism community. As the economy of the gulf area improves, beachfront condominiums and other construction projects are bringing in new residents and new culture.
The property, on the northeast corner of Beach Blvd and Marcie Dr in Long Beach is a fantastic addition to any real estate investor's portfolio. For a developer, this beautiful land located across the street from the Gulf of Mexico is a valuable business opportunity. Currently, the area would benefit from most types of business development, and with such beautiful views and high visibility, the business possibilities are endless.
As retail moves into the area, just down the road from Gulfport, Mississippi, Long Beach is gradually turning into a place where locals find spots for quiet beach trips, and along the way, they're certain to stop at retail locations. This means not only will local businesses find the area hospitable to their commercial ambitions, but so will major businesses and nationwide retailers. The area already features outposts of major corporate chains, built in the past five years.
This is lot 100359 of Micoley.com's auction number 3000. The opening bid has been set a great deal lower than the property's original asking price of $645,000, and for 3.04 acres in this location, the property is expected to attract a great deal of attention. Bidding will commence online on March 22 at 11:00 a.m. central standard time. This seller, however, has signaled that early offers and bids may be entertained, so potential bidders are advised to register and gather information as soon as possible.
Interested parties should visit micoley.com to find more photos and details about the property, or by visiting in person and performing an inspection on site, which is highly recommended. 1-866-371-3619 is Micoley.com's information line. Additionally, Micoley.com features a live chat service through which questions can be answered.
About Micoley:
Green Bay, WI-based Micoley.com is a real estate marketing firm specializing in project focused auctions of bank-owned properties throughout the United States. The Micoley approach to real estate marketing tailors each auction plan to the client's individual needs. The site is constantly being updated for the benefit of buyers, as large scale auction events are held monthly, and new properties are added daily. Auctioneer: Rick Roundy #1375. Broker Firm: WM Enterprises Inc #19958. Broker: Amy Wick #19957.