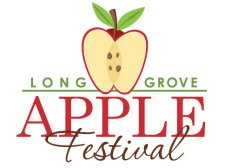 No matter which way you slice it, Apple Fest is your best reason to visit Long Grove.
Long Grove, IL (PRWEB) July 26, 2016
The 24th annual Long Grove Apple Festival has been announced for September 23, 24 and 25, 2016. Visitors can expect to have bushels of fun at this celebration of fall's favorite fruit and the many delicious ways to enjoy it in historic downtown Long Grove (http://longgrove.org/, #ILoveLongGrove). From Long Grove Confectionery's famous apple cider donuts to apple popcorn, caramel apple lattes and more, Apple Fest has something to offer for all apple lovers – young or old. Better yet, once visitors get their apple fix they can enjoy Long Grove's enchanting outdoor ambiance, with dozens of indie shops and activities staged throughout the scenic village (which closes down its main streets to traffic throughout the weekend).
"Although it's been a hit for decades, Apple Fest has a new found energy," said Ryan Messner, President of Historic Downtown Long Grove Business Association. "It's the last big festival of the year and the unofficial kickoff to autumn and the holidays."
Apple Fest guests can choose from countless apple-inspired treats from local merchants and vendors all weekend long. Examples in the past have included:

Apple pies, apple cider, caramel apples, and apple cider donuts with sugar and cinnamon from Long Grove Confectionary
Apple cake, apple spiced donuts, and caramel apple lattes from Beans & Leaves Coffee & Tea Café
Apple and rhubarb pie, apple butter with scones, and apple tea from High Tea with Gerri
Apple-flavored popcorn from Long Grove Popcorn Shoppe
Candied apples, apple fudge, apple sour candies, apple caramels, a variety of apple saltwater taffy, and apple licorice from Ma & Pa's Candy
Honey apple pecan dip mix from Country Home Creations from Mangel Gifts
Caramel apple martinis from Enzo & Lucia Ristorante
Fresh baked apple turnovers, caramelized apple and bacon cheeseburger, caramel apple sundae, a variety of apple martinis, and seasonal hard cider from Village Tavern
Apple pie flavored cigars from Neumann's Cigars & More
Broken Earth Winery's Albarino white wine, with the aroma and flavor of Fuji apples.
In addition to three days of delectable apple vendors and apple concoctions, festers can also participate in exciting free family activities, including a wide-variety of apple-themed games like the legendary apple pie eating contests. Besides all the apple mayhem, the other big draw is the free live music playing continuously on several stages spread out through fest grounds. Weekend headliners programmed by festival producer Ravenswood Special Events include 80's tour de force Sixteen Candles on Friday, Gods of rock powerhouse, 7th Heaven, on Saturday, and Top 40 Country Bella Cain to cap things off on Sunday.
Historic buildings, cobblestone walkways, colorful gardens, and Long Grove's landmark bridge make up the old world village. Apple Festers are invited to peruse the town during Apple Fest and enjoy specials at many of the charming shops, boutiques, galleries, and restaurants. "No matter which way you slice it, Apple Fest is your best reason to visit Long Grove," added Messner.
Location: Downtown Long Grove, 308 Old McHenry Rd, Long Grove, IL 60047
Hours of Operation for Apple Fest:
Friday: 11am-11 pm
Saturday: 10am-11pm
Sunday: 10am-6pm
Apple Fest Admission: $5 per person per day, kids 12 and under get in free. On Friday from 11 am – 2 pm there will be free admission for all.
Parking is free at all public lots:
Stempel Municipal Lot - 360 Historical Lane, Long Grove, IL 60047
Archer Lot - 343 Old McHenry Road, Long Grove, IL 60047
Kildeer Countryside Elementary School - 3100 Old McHenry Road, Long Grove, IL 60047