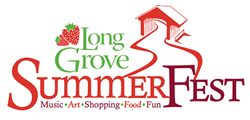 We want to pay tribute to ALL the best things that summer in Long Grove has to offer.
Long Grove, IL (PRWEB) June 09, 2016
True to form, Historic Downtown Long Grove is bringing back its annual homage to strawberries, however now with a wider mix of summer fruits, vendors, merchants and top notch music! Introducing Summer Fest, a revamped version of the popular Long Grove Strawberry Fest, which includes a broad array of bands, art, shopping, family activities, food and yes, strawberries too! On Friday, June 24 through Sunday, June 26, the charming Village of Long Grove, about 35 miles northwest of Chicago (http://www.visitlonggrove.com, #VisitLongGrove), will close down its downtown streets to traffic so that an anticipated 20,000+ visitors can partake in what's destined to become another signature event.
"Although everybody loves them, we didn't want this fest to be known exclusively for strawberries," said Ryan Messner, President of Historic Downtown Long Grove Business Association. "Instead, we want to pay tribute to ALL the best things that summer in Long Grove has to offer."
In looking to achieve that goal at the inaugural Summer Fest 2016, the Historic Downtown Long Grove Association has again partnered with Ravenswood Special Events, producers of some of Chicagoland's biggest festivals, including the annual Long Grove Chocolate Fest, which shattered attendance records this past May. The first area of attraction that stands out is the live music programming. With three stages of non-stop, high quality tunes, there won't ever be a dull moment. Headliners include 90's Hip Hop cover band, Too White Crew on Friday, 80's tour de force Sixteen Candles on Saturday, and jam band Mr. Blotto, who'll bring they're unique blend rock, folk and country on Sunday.
In respect to Summer Fest eats, there will be an assortment of "summer BBQ" and "fruits of the summer" treats from an anticipated 70+ vendors. Some of the fest's unique food and beverage items in the past have included: prime rib sandwiches with strawberry salsa from the Village Tavern, strawberry beer, strawberry wine from Broken Earth Winery and chocolate strawberry popcorn from the Long Grove Popcorn Shoppe.
For the kiddos, Summer Fest organizers are planning thrilling activities all weekend long at the Kid Zone sponsored by Primrose School, including classic carnival rides, arts and crafts and DIY gardening demos for little green thumbs. In addition, there will be throw-back family competitions, such as 3-legged races, potato sack sprints, tug-o-wars, water balloon tosses and more. To cap off the family fun, live karaoke on the Fountain Square Stage on Sunday will provide laughs for the whole clan – as will another highlight of the weekend, the exhilarating pie-eating competitions on Saturday and Sunday for both kids and adults.
Fine Print:
Location: Downtown Long Grove, 308 Old McHenry Rd, Long Grove, IL 60047
Hours of Operation: Friday, June 24: 11 am – 11 pm; Saturday, June 25: 10 am – 11 pm; Sunday, June 26: 10 am – 6 pm.
Admission: $5 per person per day, kids 12 and under get in free. On Friday from 11 am – 2 pm there will be free admission for all.
Parking is free at all public lots:
Stempel Municipal Lot - 360 Historical Lane, Long Grove, IL 60047
Archer Lot - 343 Old McHenry Road, Long Grove, IL 60047
Kildeer Countryside Elementary School - 3100 Old McHenry Road, Long Grove, IL 60047