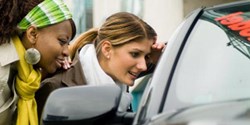 We allow [our clients] to largely streamline [the financing] process, resulting in faster, easier, simpler financing...
Houston, TX (PRWEB) November 21, 2013
Longhorn Auto Finance, based out of Houston, is proudly announcing the launch of a new website with an integrated credit application platform. The company, which serves car-shoppers across the entire state of Texas, has assembled a network of dealers, lenders, and finance specialists who accept user applications via the internet.
Whereas, traditionally, a prospective borrower would have to sit before a loan officer at the bank or an "F&I" (finance and insurance) manager at the dealership, hoping to get approved, Longhorn Auto Finance allows users to submit their application online--just once--and get placed with a dealer or lender willing to fund the loan they need. Applicants are contacted by a specialist who can walk them through each step of the process, helping them the securing the lowest interest rate and most competitive terms for the car they want.
Longhorn Auto Finance does charge its clients a fee for this service, as they are compensated by the dealers and lenders for each placed application. There is no minimum credit score for application, and both new and used vehicles are eligible. Down payments may be required, but not in all cases. Applicants must be 18 years of age. Full coverage insurance is required in most cases.
Interested parties can view the website here.
"What our system does is streamline the process like never before," said T. Brown, company spokesperson. "In the post-recession era, it isn't as easy to finance a car, and shoppers are spending long hours at dealer lots and banks, sometimes having to travel to multiple locations just to get approved. We allow them to largely automate this part of the process, resulting in faster, easier, simpler financing that's often more cost-effective."
About the Company: Longhorn Auto Finance assists Texas consumers in need of car loans, no matter their credit score or income bracket.