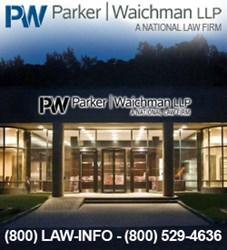 It's not so much part of our legal obligation, but our moral obligation we have to our clients and we're happy to do so
Port Washington, NY (PRWEB) February 19, 2014
When Louise Cocchiaro, 65, died in December, she had been living in a nursing home in the Bronx, New York. Although she possessed a rather large trust account of $400,000, she was dangerously close to being buried in Potter's Field. The law firm, Parker Waichman LLP, was made aware of this problem by Channel 11's "Help Me Howard," and was able to give Louise the burial she had long requested.
According to the Complaint, Louise was a passenger in an ambulette that was involved in an accident on March 27, 2012 at East Gun Hill Road and White Plains Road in Bronx, New York. The crash left Louise very seriously injured. Litigation was commenced by Louise Cocchiaro by her attorneys at Parker Waichman LLP in the Supreme Court of the State of New York County of Bronx (Index Number: 303264/2012).
The lawsuit was settled for $755,000 for Louise and her husband by Parker Waichman LLP. A special needs trust account was created for Louise's benefit, which contained about $400,000. The special needs trust was set up and put in place to protect Louise's monetary settlement because she was receiving Medicaid assistance and her total benefits exceeded the trust amount. At the time of her death, the trust balance not used for Louise in her lifetime was going to Medicaid, by law. No money was left for her funeral.
New York's "Help Me Howard" reached out to the firm administering the trust. Representatives there said they were unable to release any of the trust's funds for Louise's funeral. The situation was looking hopeless for Louise.
"Help Me Howard" then contacted Brett A. Zekowski, a Partner at Parker Waichman LLP. The personal injury law firm deemed it appropriate to pay for Louise's proper Catholic funeral services and burial at St. Raymond's Cemetery. "It's not so much part of our legal obligation, but our moral obligation we have to our clients and we're happy to do so," Brett A. Zekowski said. "And if it wasn't for you bringing this to our attention this couldn't be done," Mr. Zekowski told "Help Me Howard."
Louise received her Catholic funeral and burial on January 24, 2014.
About Parker Waichman LLP
Parker Waichman LLP is a leading personal injury law firm that represents plaintiffs nationwide. The firm has offices in Port Washington, Long Island, New York, New Jersey, Florida and Washington, D.C. For more than two decades, Parker Waichman LLP has assisted thousands of clients in receiving fair compensation due to the negligence of others and injuries resulting from accidents, nursing home abuse and neglect, defective drugs, medical devices and other products. For more information on Parker Waichman LLP, visit http://www.yourlawyer.com or call 1-800-LAW-INFO (1-800-529-4636).
Contact:
Parker Waichman LLP
Gary Falkowitz, Managing Attorney
1+ (800) LAW-INFO
1+ (800) 529-4636
http://www.yourlawyer.com