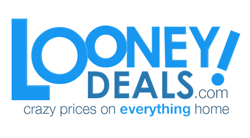 New York, NY (PRWEB) May 13, 2014
LooneyDeals.com is an online site that you can shop at with complete confidence and save big with guaranteed lowest prices. Their motto is, "Crazy Prices on Everything Home!" They offer many feature brands such as Skyline Furniture, Zuo, Z-Lite, Office Star Products, Uttermost, and many more. Coupled with lower operating costs than its competitors, the company negotiates directly with manufacturers to offer the lowest possible pricing to consumers.
The site is easy to maneuver around and all products are listed under specific titles such as sofas, accent chairs, headboards, etc. Selections are vast and you can search the site by name brand as well as type of furniture or home décor you require. The wide selection of furniture and décor items is vast and covers any type of decorating style. From antique Victorian to extreme modern, LooneyDeals.com has something for you.
Unlike conventional shopping sites, LooneyDeals.com is more personalized to meet the customer's specific needs each time they shop. Customers do not have to look through thousands upon thousands of items and get lost in the process. LooneyDeals.com offers a more relaxed and specific item search that is specifically suited to your decorating preferences. The company promises a high level of customer satisfaction, everything on LooneyDeals.com ships for free and there are live customer service representatives available 24/7.
"We set out to build a site that gives our customer a great user experience. This site, coupled with great customer support will achieve 100% Customer Satisfaction. It will finally allow us to focus on what's important: Providing truly the best prices to our customers!" said LooneyDeals.com CEO Michael Correale.
The company hopes to stay lean and disrupt the home furnishing eCommerce sector by storm! Being nimble and able to adapt to customers needs, LooneyDeals.com looks to climb fast in the industry rankings to become a top online retailer of home furnishings and housewares in the U.S.
Looney Deals LLC is an online retail company based in New York, USA. The company owns and operates LooneyDeals.com.
For more information, visit http://looneydeals.com.