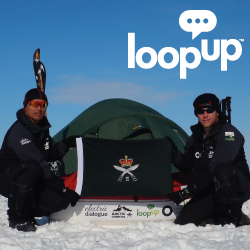 The LoopUp team is proud to support such a great cause by enabling communication in vast and isolated regions like the Canadian Arctic
London (PRWEB UK) 7 May 2015
LoopUp, the stress-free conferencing solution that puts users comfortably in control, today announced the company is sponsoring Expedition Arctic Gurkha, a 1,500-mile circumnavigation of Ellesmere Island in the remote Canadian Arctic Circle in support of Gurkha Welfare Trust. As part of the sponsorship, LoopUp is providing free conference calls for the participants to talk with sponsors, supporters and schools while in the Arctic.
"LoopUp is giving us invaluable support – making it affordable for us to communicate back to our homes, sponsors, The Gurkha Welfare Trust and participating schools all the way from the Arctic," said Captain Jon Armstrong, 2nd Battalion, The Royal Gurkha Rifles. "The expedition will be undoubtedly intensive and challenging, but we have trained hard and are prepared for what lies ahead. In the wake of the recent tragic events in Nepal, we're extremely grateful for the outpouring of support we have received."
Celebrating 200 years of Gurkha service in the British Army, Armstrong and Corporal Arjun Limbu began the challenge on May 2, and hope to break the world record and complete it in less than 100 days. The money raised from the expedition will go to the Gurkha Welfare Trust's Rural Water & Sanitation Program in Nepal, which provides homes and schools with access to clean running water. Following the recent earthquake in Nepal, the Expedition's fundraising will go to the areas which most urgently need the support – ensuring communities can rebuild safely.
"The LoopUp team is proud to support such a great cause by enabling communication in vast and isolated regions like the Canadian Arctic. Money raised through this expedition for the Gurkha Welfare Trust is more important now than ever and we admire Jon and Arjun for their ambition and leadership," said Steve Flavell, co-CEO of LoopUp. "We wish Jon and Arjun the best of luck in their epic journey."
For more information on how to support the Gurkha Welfare Trust, please visit https://www.justgiving.com/arcticgurkha/.
Additional Resources
Read our industry views
Follow us on Twitter
About LoopUp
LoopUp makes collaboration stress-free by putting users comfortably in control of their meetings. Its intuitive design makes sending an invite, joining a call and sharing content as simple as a few clicks. LoopUp helps over 1800 enterprises worldwide to achieve a less painful, more secure and more productive meeting experience. Industry leaders like Alcatel-Lucent Enterprise, BT and Cable & Wireless Communications have chosen to distribute LoopUp technology to their customers. LoopUp is headquartered in London and San Francisco. For more information, visit loopup.com.