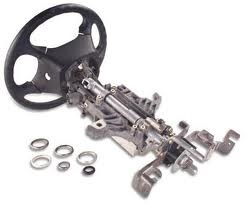 Our full inventory of universal, tilt and other styles is one of the largest promoted to buyers online
Pittsburgh, Pennsylvania (PRWEB) August 06, 2013
Steering wheels provide a combination of safety as well as maneuverability for motor vehicle owners. These units can and will go bad on vehicles due to part failures or manufacturing defects. The SteeringColumnsforSale.com company is now solving loose steering column issues for car owners with its reduced price inventory published at http://www.steeringcolumnsforsale.com/steering-columns.
This company is now providing lowered prices for any style of steering wheel column requested by consumers. From performance vehicle builds to restoring classic vehicles, the company inventory can now be researched directly by car owners online.
"Our full inventory of universal, tilt and other styles is one of the largest promoted to buyers online," a source from the SteeringColumnsforSale.com company said.
Traditional auto parts buying required negotiating directly with salvage or junkyard companies to locate discounted prices.
Solving the immediate steering column issues for vehicle owners is one side of the company business model. Creating easier access to pricing is one goal by this company after launching its website in 2012. Tools now exist that are programmed by company experts to reduce time spent researching steering wheel assemblies or related parts online.
"We've moved to a system of quotes that handles all generation of price and warranty details," the source concluded. Toll-free telephone number customer support remains available at 1-866-469-1209 as an offline alternative for assistance. Buyers who continue to purchase online or submit feedback can use the tools that are available for access.
The sale programs and inventory changes that are announced by this company for new and existing customers are now syndicated through hundreds of media outlets online. These practices are slated to continue through the coming year to expand the reach of offering quality auto parts to more car owners.
About SteeringColumnsforSale.com
The SteeringColumnsforSale.com company is a leading supplier of replacement steering wheel column components and assemblies in North America. This company launched its search features online to provide immediate access to multiple versions of column assemblies for sale. The SteeringColumnsforSale.com company publishes low pricing and warranty details directly online for consumers to review before purchases are complete. This company places talented employees within each department of its company to ensure satisfaction is earned with consumers using this company as their automotive parts supplier.