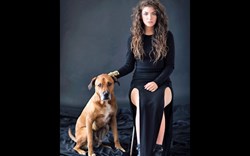 Arlington, VA (PRWEB) December 20, 2013
At the age of 17, new and upcoming pop sensation Lorde has announced her first North American tour. With her big hit single Royals reaching number one on the Billboard Hot 100 and her debut album, Pure Heroine, released in September of 2013, this young and rising singer has a bright future ahead of her. Her journey begins March 3 in Austin Music Hall in Austin, Texas with fans eager to see her performing on stage. She will go across the nation with 16 shows with back to back shows in New York's Roseland Ballroom, ending her trek in Oakland, California on March 26. With Royals only being out for less than a year, Lorde is already nominated for four Grammys and with her tour ending in March, it approaches the summer music festival season. Expecting big turnouts at her shows, the US will get a taste of Lorde's raw talent and sophisticated fashion style as she performs in her first of hopefully many more US tours. A complete list of her 2014 North American tour dates are below and Lorde tickets go on sale to the public on December 20th.
With the instant fame that Lorde received from her hot single, Royals, tickets are expected to sell out quickly since she is one of the biggest artists in the world and is known for her outstanding live performances. She has matured well beyond her songs, appealing to an audience of all ages, having a higher demand on the tickets. Most of the venues she is performing at will be standing room or general admission, having a maximum capacity of about 3000, but a few of them will have reserved seating. Being her first North American tour, tickets are expected to be gone within the first few hours so get yours when you can.
March 3 - Austin Music Hall, Austin
March 4 - Southside Ballroom, Dallas
March 5 - Bayou, Houston
March 7 - Echostage, Washington, D.C.
March 8 - Tower Theatre, Philadelphia
March 11 - Roseland Ballroom, New York
March 12 - Roseland Ballroom, New York
March 14 - Orpheum, Boston
March 15 - Sound Academy, Toronto
March 16 - Fillmore, Detroit
March 18 - Aragon, Chicago
March 20 - Peabody Opera House, St. Louis
March 21 - Arvest Bank Theatre, Kansas City, Mo.
March 22 - Fillmore Auditorium, Denver
March 24 - WAMU Theater, Seattle
March 26 - Fox, Oakland, Calif.
For a limited time only, SuperStarTickets.com will also be offering discount Lorde tickets. Simply enter the promotional code ROYALS at the checkout page to receive a 7% discount. This discount is only valid on Lorde tour ticket purchases through February 1, 2014.