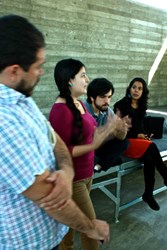 We took students into this complex environment where local artists and activists are working and asked them to think about how community connections operate.
Los Angeles, CA (PRWEB) November 27, 2013
Exploring artistic and social connections between Los Angeles and Tijuana, the Exposición Ni Chana Tijuana unpacks what happens when a group of graduate students in Social Practice must, for the first time, develop fieldwork within a border community that they have previously encountered only through theoretical frameworks and discussions. What happens when these students encounter that community in reality, and learn first-hand about its problems and questions? What types of cross-cultural connections can be created with residents, artists, and activists given the complex nature of their surroundings? Not one or the other, neither here nor there, 'ni Chana ni Juana' is an expression used in México to emphasize the ambiguous nature of a given situation. In that spirit, this exposición explores the contingent relationship between these artists and the Camino Verde neighborhood of Tijuana.
'Exposición,' the Spanish term for exhibition, refers both to the idea of exhibition and to the idea of being in an exposed and vulnerable position. This 'exposición' focuses on the ethical and practical dimensions of entering and engaging a community. Some students expose the underlying power structures and their own feelings of vulnerability while others bypass the larger governing structure. Their efforts focus on small-scale moments of relation that activate a shared human experience across numerous borders.
Elements of the controversial bi-national Merida Initiative have funded community development projects in 13 hot spots throughout Mexico designated "at risk" for high incidences of violence and crime. One of those sites is the neighborhood of Camino Verde. Artists are deeply involved in these developments and working to create programming for community organizations such as Casa de las Ideas (House of Ideas) for media production, La Granja (The Farm) for environmental and food justice, and the Camino Verde Community Center. "We took students into this complex environment where local artists and activists are working and asked them to think about how community connections operate," says Bill Kelley Jr., Otis Graduate Public Practice Program faculty member. "We wanted them to learn how you approach community, learn about the various community and institutional interfaces and begin to make connections. We asked them to focus their research on how to enter and engage in a site like this, and what types of questions should be asked rather than presume that they are going to swoop in and solve problems."
The 'exposición' Ni Chana Tijuana opened at 18th Street Arts Center, Santa Monica, on November 16 and runs through December 7, culminating with a conversation at the Otis Graduate Public Practice studios on December 7, 2013 at 12PM. Additional information can be found at http://www.otis.edu/graduate-public-practice.
About Otis Graduate Public Practice MFA
The only educational program in the Southern California region dedicated exclusively to providing artists with advanced skills for working in the public sphere, the Program focuses on both collaborative and individual art production. Public practice – also called participatory art, community art, public art, situational art or social sculpture – consists of video, performance, drawing, photography, sculpture and web-based projects. The Program, under the leadership of Suzanne Lacy, the renowned author and artist, educator, theorist of socially engaged public art, prepares students to re-invent traditional media-specific ways of thinking about art making. 
About Otis College of Art and Design
Established in 1918, Otis College of Art and Design is a national leader in art and design education. The College mission is to prepare diverse students of art and design to enrich our world through their creativity, skill, and vision. Alumni and faculty are Fulbright, MacArthur, and Guggenheim grant recipients, Oscar awardees, legendary costume designers, leaders of contemporary art movements, and design stars at Apple, Abercrombie & Fitch, Pixar, DreamWorks, Mattel, Nike, and Disney.   Otis enrolls approximately 1,100 full-time students, and offers Bachelor of Fine Arts degrees in Architecture/Landscape/Interiors, Digital Media (Game and Entertainment Design, Animation, and Motion Design), Fashion Design, Communication Arts (Graphic Design, Illustration, and Advertising Design), Fine Arts (Painting, Photography, and Sculpture/New Genres), Product Design, and Toy Design.  Otis also awards the Master of Fine Arts degree in Fine Arts, Graphic Design, Public Practice, and Writing.