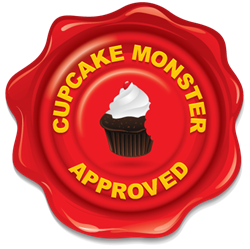 CupcakeMaps has no intention of slowing down its efforts to add the best cupcakes, cakes, wedding cakes to our system. We are also adding bakeries to the esteemed Cupcake Monster Approved list!
Los Angeles, CA (PRWEB) April 15, 2014
The nation's most extensive and first-of-its-kind cupcake bakery search, deals platform, and cupcake reviews sysem, CupcakeMaps.com, has announced recent additions to a sufficiently bolstered directory of over 15,000 cupcake businesses. While CupcakeMaps clientele roster is already becoming an increasingly unbounded powerhouse, they never relent in their dedication to supplying the country's millions of cupcake lovers with easy access to local cupcake bakeries. This company is responsible for taking the troubles out of finding the best local shops based on user-generated reviews, easy directory search, and free mobile iPhone and Android apps. Locating a good cupcake shop has been made a cinch and nearly 195,000 sweets lover thought so as well. As usual, CupcakeMaps shows no signs of slowing down they sugar rush move to the top of the cupcake directory industry.
Notable additions to CupcakeMaps' delicious Los Angeles shops include Sprinkles Cupcakes, Hotcakes Bakes, Big Man Bakes, Georgetown Cupcakes, Southern Girls Desserts, Yummy Cupcakes, and Milk of Los Angeles. These Los Angeles cupcake shops are loved by all who visit these locations, Cupcake Monster Approved, and feature some of the finest and tastiest desserts in the country. These cupcake bakeries are not selling dried out super market cupcakes, they make rich, moist, baked-daily fresh cupcakes! The company has sifted through many bakeries in order to ensure that these are indeed some of the best cupcakes in Los Angeles.
Sprinkles Cupcakes, a national favorite, usually is not only a cupcake adventure, but also a long wait! The shops are always crowded as one of America's most loved and top rated cupcakeries. Regardless of the wait, the cupcakes are ridiculously delicious, with the chocolate chocolate being a wide favorite of Sprinkles. The red velvet, coconut, and rich vanilla are all close in comparison. With the Sprinkles 24-hour cupcake ATM, you can now get your needs met constantly around the clock. Cupcake fiends come from all over – Beverly Hills, Santa Monica, Westwood, Beverly Glen, Hollywood just to get a taste of Sprinkles Cupcakes! Strong Work Candace…strong work! 635 S. Santa Monica Blvd., Beverly Hills.
Hotcakes Bakes is a Los Angeles Cupcake Wars Winner is right in the Los Angeles / Culver City area. The company highly reviewed the chocolate chocolate, vanilla chocolate, Vanilla, and mocha expresso cupcakes. The chocolate's moist chocolate cake topped and a perfectly chocolatey frosting that was cool and melts in your mouth! FANTASTIC! Hotcakes Bakes other cupcakes are noted to be moist topped with rich delicious frosting and sweet with a strong coffee taste. Bottomline - They didn't WIN Cupcake Wars by being a mediocre bakery spot! THREE THUMBS UP for Hotcake Bakes Bake Shop!
Big Man Bakes in Los Angeles, CA has been voted one of the best by CupcakeMaps.com users based on reviews. The Los Angeles bakery shop recently received a Cupcake Monster Approved seal for maintaining a 4 out of 5 star rating since they've been open and on the website. With all these great reviews, this accomplishment has made them one of the best shops in LA to get desserts for birthdays, weddings, baby showers, anniversaries, graduations, or just because. Big Man Bakes, a previous medical doctor in training, will be certainly be around for a long time!
Georgetown Cupcakes Los Angeles is local cupcake favorite because the cake is always moist and the icing is perfectly sweet. Everyone raves about awesome these sweet little desserts are, and CupcakeMaps agrees! The staff states they sell over 2,500 cupcakes per day – that's quite a bit of cupcake love going around! One of he most popular flavors is the vanilla chocolate – described by Georgetown Cupcakes as a classic madagascar bourbon vanilla cupcake with a whipped callebaut chocolate frosting topped with a fondant flower. Just the description alone tastes good!
Yummy Cupcakes in Santa Monica had to be added due to their overwhelming popularity, raving reviews, and widespread love of their desserts and cupcakes in a jar! These gourmet cupcakes are created from scratch and are so perfectly crafted; you'll believe they're a piece of art! Yummy Cupcakes takes pride in providing you with gorgeous, delicious cupcakes that even your friends will envy. With a unique flair for presenting cupcakes in a variety of ways (Cupcake in a Jar, Cupcake Biscotti, Cupcake Pies), you'll be coming back for more to try out all their different flavors and cupcake gimmicks.
Milk is another Los Angeles CA Cupcake Wars Winner, has the unique cupcakes and desserts that you won't find anywhere else in Los Angeles. Why not place your dessert needs in the hands of a "Cupcake Wars" winner? From rich, blue velvet cake to their wide range of macaroon ice cream sandwiches, it will be hard to find something at Milk that you don't like.
Southern Girls Desserts is another Los Angeles Cupcake Wars Winner! Also known as SGD for short, this cupcake bakery was born out of the need to bring the Southern flavor and hospitality to the people of Los Angeles. These cupcakes will wow both your eyes and your taste buds. It's unlikely that you'll find these unique Southern-flavored and inspired cupcakes anywhere else. Southern Girls Desserts Los Angeles gives you some sweet southern lovin right in the heart of the city.
With the announcing of these well-known, wildly popular, and seriously delicious Los Angeles California cupcake bakeries to the CupcakeMaps family, the company is only further solidifying its status as a true leader of the cupcakes n cakes industry. Directory updates will be released monthly and will feature some of the most highly reviewed bakery shops in the United States.