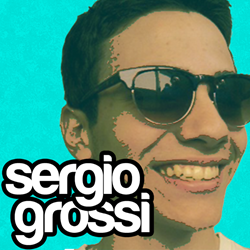 I spend a lot of time on sound design and trying to make my music more melodic because that's what makes my music stand out.
Los Angeles, CA (PRWEB) July 31, 2013
Sergio Grossi, a 20 year old electronic music producer and Los Angeles DJ announced the release of his new website SergioGrossi.com. He is releasing his original songs as well as remixes free to download on his Facebook page. "I am an underground musician, so my main goal right now is making awesome music to get listeners and new supportive fans. One day I will sell my songs, and fans will hopefully support me because of the countless free tunes I released," said Sergio Grossi.
Sergio's newest original, "Gorillajump," fits under the genre Sergio calls "Festival House." The song sounds tribal and from the jungle, and definitely has a groove that will surely get a massive amount of people pumping their fists at a huge concert. It's obvious that Sergio isn't following any of the trends that seem to be popular in electronic music these days. "Take a listen to 'Gorillajump', enjoy the beautiful breakdown, and proceed to jump around," added Grossi.
The newest remix that Sergio has released is for the Bro Safari & UFO! Drama remix contest. It contains low-pitched gangster vocals with a funky hip hop beat that instructs people to "get up on your feet." Sergio knew that there would be many people that would remix this song due to the competition, so he tried to make his as original as possible. He did so by adding his own melody and by using an array of sounds including a lead that sounds like a distorted electric guitar.
For those looking for something more down-tempo, Sergio has also released Justin Timberlake's Suit and Tie Remix. According to the description of this tune on soundcloud, Sergio started making this song with the intentions of releasing it as original, but then heard JT's vocal and realized that it fit. This song has very pleasant bell sounds, arpeggiated synths, and tons of bass. Sergio says, "I spend a lot of time on sound design and trying to make my music more melodic because that's what makes my music stand out."
About Sergio Grossi
Sergio Grossi is a young DJ / Los Angeles Producer. Sergio has always had a fascination with music and asked his parents for piano lessons when he was just 6 years old. He was born in Buffalo, NY and lived there until he moved to Greenville, NC when he was 13. Sergio is the youngest of 4 brothers. When he was 15, he taught himself guitar and bass, which lead a fascination with rock music. At 16, he began mixing and scratching vinyl. At 17, Sergio taught himself to play the drums, and at 18, he started to produce original tunes. When Sergio graduated high school in North Carolina, he moved to LA to attend the Los Angeles Recording School. At the time, Sergio had the intentions of becoming an audio engineer in Los Angeles. But while in school, he realized that his true passion was creating amazing original music. It was when he moved to California that he realized his true love was electronic music. Although his tastes are constantly changing, you can hear that "Sergio" sound in every one of his songs. Sergio has always had an appreciation for musicians and bands that mix styles together for originality such as: The Doors, Sublime, Beastie Boys, and Rage Against the Machine. "If you take from just one person, it's stealing. But take from everyone, and it's research." - Carlos Santana. Sergio uses this philosophy to take all the awesome qualities of the music he enjoys, and implement it in his own way. His goal is to bring crowds of people together, and achieve unity regardless of genre or any other interest.