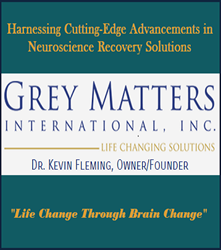 There is tremendous satisfaction in what we do in terms of the lifelong transformations we witness, and this partnership strives to completely redefine success in sobriety within the scope of residential recovery services
Los Angeles, California (PRWEB) March 14, 2014
Grey Matters International, a cutting-edge neuroscience recovery solutions firm specializing in a myriad of mental health advancement services, is announcing its Los Angeles, California presence through a new partnership with residential addiction treatment centers. The company's recent Southern California expansion represents the ever broadening scope of more effective and advanced addiction/alcoholism recovery services throughout the inpatient treatment industry.
The partnership is geared to provide those with expanded needs such as private, executive or VIP services, with the opportunity to receive a more structured residential drug rehab environment without, however, the need to compromise level of care. The company until now has seen tremendous growth worldwide since its 2004 inception, yet has remained largely limited to those seeking higher-end end addiction treatment services without the need for 24/7 oversight commonly seen in inpatient or residential treatment centers.
Says Grey Matters International founder and executive director, Kevin Fleming, PhD., "There is tremendous satisfaction in what we do in terms of the lifelong transformations we witness, and this partnership strives to completely redefine success in sobriety within the scope of residential recovery services." The new framework of services is offered in the Southern California region and is slated to expand into various other cities nationwide.
The company has seen exponential growth during recent years within the realms of addiction and alcoholism recovery, marriage resolution and couples retreats, executive life coaching and various mental health recovery services for depression, anxiety, PTSD, etc. With its neuroscience based services gaining recognition by the likes of Deepak Chopra, Bill Bartman, Adrian Gostick, CNN and The Today Show, its entry into Southern California's high-end, luxury residential addiction treatment market has been largely welcomed by treatment professionals discouraged with the industry's traditionally low success rates. Says Dr. Fleming, "I have a great job, I get to help people transform their lives and am afforded a front row seat as witness to the paradigm shift taking place in their minds and hearts."
Grey Matters International operates worldwide and offers substantial information regarding all service categories throughout the company websites at http://www.greymattersintl.com and http://www.kevinflemingphd.com. Dr. Fleming and staff are available 7 days a week at (877) 606-6161.