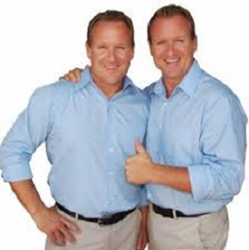 It was one of those times where your intuition takes over. Something came over me and I knew immediately what had to be done
Los Angeles, CA (PRWEB) August 30, 2013
Los Angeles plumbers aren't usually the people you think of when you hear about people giving back to the community. Dave and Jim Schuelke of Schuelke Plumbing are doing their part to change that. Recently Dave was called out to a complex for a leak detection call in Burbank. During the process of tracing the leak he discovered that there was a family with a disabled person who really didn't have the proper facilities to have the best quality of life.
"It was one of those times where your intuition takes over. Something came over me and I knew immediately what had to be done. I called my brother Jim and told him I wanted to do this entire bathroom remodel for no cost, says Dave Schuelke. "I could hear the tone of my brother's voice. We are twins and I have always had an easy time interpreting his emotions. I told him I was on board and we made it happen. It feels great to help people who aren't asking for help but really need it," says Jim Schuelke.
The twins were able to work with their suppliers to have the necessary materials for the bathroom remodel donated. Their generous team of Los Angeles plumbers also donated their time. "Everything came together and the family we helped has a new bathroom that suites their needs," says Dave. As a result of their kindness Schuelke Plumbing has been featured in well know publications. People are invited to read the article about them in the Los Angeles Times and LA Daily News. "The feedback has been very positive and we are astounded by how many people are calling our Los Angeles plumbing company with well wishes."
In addition to the bathroom remodel Schuelke Plumbing is also well known for their consumer friendly video series that helps homeowners with plumbing tips and advice. The video series covers a range of topics from how to hire a plumber to how much trenchless sewer replacement in Los Angeles costs. "We try to do everything we can to help people understand their plumbing problem so they can make an informed decision when hiring a plumber. We think it's a different approach than other companies take and the response has been great," says Dave.
To learn more about Schuelke Plumbing please visit their website or give them a call at 1-800-397-0093. The Twin Plumbers offer twice the service, twice the Care. Call now for plumbing repair in Los Angeles.