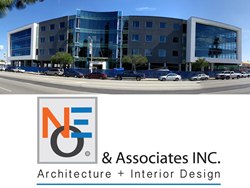 Hollywood Squares....floating on a bed of air and glass
Los Angeles, CA (PRWEB) May 17, 2016
NEO & Associates, a leader in medical office building design, today announced that the Ventana is ready for its occupants. The Tri-Star Realty Group LLC selected NEO & Associates and its award winning Architect Edward Osuch among several prominent architecture firms to be the Chief Designer and Architect of Record for their flagship medical official building the "Ventana."
"This new Medical Office will not just be a typical office building on Ventura Blvd, it will be the Gateway into Tarzana." The giant 'TV Boxes' on the East and West facades can be seen from blocks away and the 'Hollywood Squares' in between help to personalize the scale of the building. All these architectural elements appear to be floating on a bed of air and glass. The main entry in the center is a beautiful 60 foot tall curved blue glass statement. This relationship between aesthetics and functionality is a welcome addition to Ventura Blvd and the Community." said Edward Osuch.
About NEO & Associates Inc.
NEO & Associates, Inc., (http://www.neo-inc.com) offers architectural services from inception to construction. NEO utilizes state of the art technology combined with the latest project management practices. This hands on approach provides the best possible solution to our medical office clients.