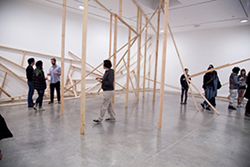 Los Angeles, CA (PRWEB) April 02, 2014
Otis College of Art and Design will showcase work by emerging talent in Graduate Fine Art and Public Practice at the annual Open Studios, open to the public on April 13, 2014, from 2-5 pm at 10455 Jefferson Boulevard in Culver City. More than thirty students will exhibit their work in individual studios, project spaces and group galleries. The 2014 Otis/Sandberg residency exchange fellow, Lithuanian artist Jurgis Paskevicius, and French visiting artist Laure Vigna will show their work.
Participating MFA students in Fine Arts and Public Practice: Victor Albarracin, Kristy Baltezore, Bryan Bankston, Lili Bernard, Claudia Borgna, Estephany Campos, Sean Cully, Andrew K. Currey, Janet E. Dandridge, Jamie Grace Dabis, David Del Francia, Daniel French, Noé Gaytån, Marcela Gottardo, Nicola Goode, Nathan Bulick, Tonya Ingram, Marissa Johnen, Tracee Johnson, Soo Yun Jun, Dahee (Angie) Kim, Katie Loughmiller, Allison McGrew, Mario Mesquita, Melany Meza-Dierks, Jurgis Paskevicius, Allison Peck, Sweet Samson, Yasmin Than, Delia Perez-Salinas Tijerina, Laure Vigna, Rachel Wolfe, and Carol Zou.
Otis College of Art and Design's graduate studios are located in Culver City, Los Angeles' premier arts district. The space at 10455 Jefferson Boulevard includes artists' studios, administrative offices, a computer lab, and two large public spaces, which host artists in residence, public exhibitions and lectures, and open studio events. The Culver City Art District boasts over 30 galleries exhibiting new and distinguished artists.
Public Practice, under the leadership of Suzanne Lacy, renowned artist, educator, theorist of socially engaged public art and author, prepares students to re-invent traditional media-specific ways of thinking about art making. Los Angeles - global center of public practices by artists and collaborative groups - is its dynamic setting. Students engage this vast human and spatial geography as emerging professionals. Entering students design a unique educational plan to fit their interests, in both community and studio contexts. Public practice - also called participatory art, community art, public art, situational art or social sculpture - consists of a variety of media including video, performance, drawing, photography, sculpture and web-based projects.
Graduate Fine Arts students develop a personal vision that has been filtered through history, gender, sexuality, culture, and politics. Graduate Fine Arts students acquire the necessary technical and theoretical resources to develop an understanding of the demands of a professional practice. The program promotes strong interaction and critical dialogue among all participants, encouraging students to converse in the language of art. Students produce work that reflects their ideas, needs and ambitions, as well as the challenges of the artistic environment and contemporary issues and concerns. Among MFA alumni are Alison Saar, Masami Teraoka, Kent Twitchell, and Bruce Yonemoto.
EVENT DETAILS
Otis Graduate Open Studios
Sunday, April 13, 2014 2pm - 5pm
10455 Jefferson Boulevard
Culver City, CA 90232
ABOUT OTIS COLLEGE OF ART AND DESIGN
Established in 1918, Otis College of Art and Design is a national leader in art and design education. The College's mission is to prepare diverse students of art and design to enrich our world through their creativity, skill, and vision. Alumni and faculty are Fulbright, Guggenheim, and MacArthur grant recipients, Oscar awardees, legendary costume designers, leaders of contemporary art movements, and design stars at Abercrombie & Fitch, Apple, Disney, DreamWorks, Mattel, Nike, and Pixar.
Otis enrolls approximately 1,100 full-time students, and offers Bachelor of Fine Arts degrees in Architecture/Landscape/Interiors, Digital Media (Game and Entertainment Design, Animation, and Motion Design), Fashion Design, Communication Arts (Graphic Design, Illustration, and Advertising Design), Fine Arts (Painting, Photography, and Sculpture/New Genres), Product Design, and Toy Design. Otis also awards the Master of Fine Arts degree in Fine Arts, Graphic Design, Public Practice, and Writing.
The five-acre main campus is located on L.A.'s Westside near the beach and LAX; Fashion Design is in the heart of the downtown fashion district; and Graduate Studios are on the Creative Corridor in nearby Culver City and in the 18th Street Arts Center in Santa Monica.
2,700 adults and children participate in Continuing Education art and design classes and workshops.