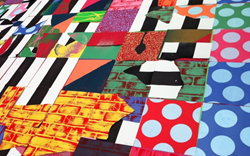 Los Angeles, CA (PRWEB) June 09, 2015
Otis College of Art and Design's MFA Graphic Design Program hosts its 5th annual Design Week, June 21-27, 2015. Design Week is a core component of the limited-residency MFA program, serving to introduce students to the international graphic design community and explore a range of professional opportunities in the field.
Each summer, visiting artists from near and far come to Otis College of Art and Design to engage with MFA Graphic Design students. Throughout the week, they engage in workshops, one-on-one and group critiques, reviews, and lectures. By the end of each summer session, the students have learned about a wide array of possibilities within the discipline.
This year Otis welcomes eleven visiting artists from Melbourne, New York, Los Angeles, Berlin, Zurich, Rotterdam, Amsterdam, and San Francisco. These guests will host workshops over the course of the week and give one-collective lecture open to the public on the evening of Thursday, June 25, 2014, at 6PM, on Otis College of Art and Design's Elaine and Bram Goldsmith Campus located at 9045 Lincoln Boulevard, Los Angeles, CA 90045. A public reception will follow.
All participating studios will present during the public lecture as well as Takashi Yanai, partner at Ehrlich Architects (s-ehrlich.com). Mr. Yanai will showcase secret places within the city of Los Angeles that speak directly to how design can effect our life on a daily basis and why L.A. is an never-ending resource for pleasure and inspiration.
In addition to current and incoming Otis MFA candidates, the department welcomes students from other institutions to participate during the week. Select schools include: Sint Lucas - Gent, Sint Lucas - Antwerp, Vermont College of Fine Art, and Cal Arts.
"The goal of the lecture is to expose the audience, through short presentations in rapid succession, to a global perspective of art, architecture, and graphic design today. This part of Design Week is always electrifying and inspiring for everyone including the visiting artists themselves," says Kali Nikitas, Founding Chair of the MFA Graphic Design program at Otis.
PUBLIC LECTURE
Thursday, June 25, 2015, 6PM
Otis College of Art and Design
9045 Lincoln Boulevard, Los Angeles, CA 90045
Elaine and Bram Goldsmith Campus – Lighting Studio
Admission – Free
PARTICIPATING STUDIOS
Tania Prill, Zurich http://www.prillviecelicremers.ch
April Greiman, Los Angeles http://www.madeinspace.la
Laurie Haycock Makela, Los Angeles http://www.designtoobjective.com
Field Experiments: Benjamin Harrison Bryant, New York
And Paul Marcus Fuog, Melbourne And Karim Charlebois-Zariffa, Quebec http://www.field-experiments.com/
Lu Liang, Amsterdam http://www.the-exercises.com And Cédric Van Parys of OMA, Rotterdam http://www.cedricvanparys.com/
Cameron Ewing of Facebook, San Francisco http://www.cameronewing.com
Elisabeth Prescott and Michael Jakab, San Francisco http://www.agencycollective.com
Curator, Design Week theme and coordinator for the week: Visiting Faculty, Menno Cruijsen of LAVA Design, Amsterdam http://www.lava.nl
Design Week is made possible in part by a generous grant funded by The Consulate General of the Netherlands.
ABOUT THE GRADUATE GRAPHIC DESIGN PROGRAM
The limited-residency MFA in Graphic Design at Otis College of Art and Design provides a rigorous and challenging academic and studio environment for candidates interested in enhancing their current professional practice.
Participants select from three individual themes or tracks: social responsibility of the designer in society, typography and type design, or advancing the discipline through theory and innovation. Each track speaks directly to educating conscientious individuals who recognize the value of design and its role in society. Coursework is comprised of research, readings, studio projects (assigned and self-directed), and a final project. The department provides students with instruction by core faculty, visiting lecturers, and visiting artists who are recognized nationally and internationally in their design and art practice.
The program is two years and two months running for three consecutive summers with two part-time spring semesters that can be completed on or off-site. Incoming students begin the program at the start of each summer session.
The program hosts weekly lectures, open to the public, by artists and designers from Los Angeles and beyond.
Follow the MFA Graphic Design Program on tumblr: otismfagraphicdesign.tumblr.com
ABOUT OTIS COLLEGE OF ART AND DESIGN
Established in 1918, Otis College of Art and Design is a national leader in art and design education. The College mission is to prepare diverse students of art and design to enrich our world through their creativity, skill, and vision. Alumni and faculty are Fulbright, MacArthur, and Guggenheim grant recipients, Oscar awardees, legendary costume designers, leaders of contemporary art movements, and design stars at Apple, Abercrombie & Fitch, Pixar, DreamWorks, Mattel, Nike, and Disney.
Otis enrolls approximately 1,100 full-time students, and offers Bachelor of Fine Arts degrees in Architecture/Landscape/Interiors, Digital Media (Game and Entertainment Design, Animation, and Motion Design), Fashion Design, Communication Arts (Graphic Design, Illustration, and Advertising Design), Fine Arts (Painting, Photography, and Sculpture/New Genres), Product Design, and Toy Design. Otis also awards the Master of Fine Arts degree in Fine Arts, Graphic Design, Public Practice, and Writing.
The five-acre main campus is located on L.A.'s Westside near the beach and LAX; Fashion Design is in the heart of the downtown fashion district; and the Graduate Studios are on the Creative Corridor in nearby Culver City, and in the 18th Street Arts Center in Santa Monica.
2,700 adults and children participate in Continuing Education art and design classes and workshops.
Additional information is available at otis.edu