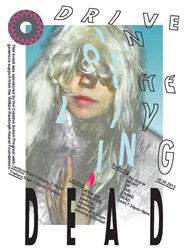 ... we are creating a unique public forum that is both educational and fun ...
Los Angeles, CA (PRWEB) October 28, 2013
Otis College of Art and Design's Creative Action Program and Student Affairs present the 1ST Annual Drive-In of the Living Dead on top of the main parking structure on Wednesday, October 30th at 7:00pm. The first film in a series of educational screenings of culturally significant films is George Romero's classic Night of the Living Dead. A lecture by Morgan Woolsey will begin at 7:00pm, followed by classic trailers, and the film will begin at 7:30pm.
Originally released in 1968, Night of the Living Dead was met with heavy criticism for its explicit content and shocking subject matter. The film eventually garnered enough critical acclaim to be selected by the Library of Congress for preservation in the National Film Registry as a work deemed culturally, historically, and aesthetically significant.
According to Richard Shelton, Director of Creative Action, "Otis recently acquired a radio transmitter, and we are creating a unique public forum that is both educational and fun. Students are learning how to manage a large-scale event, they are learning about broadcast radio technology and communications, and using their art and design skills to focus on aesthetics. They will study classic film while delivering a culturally enriching event to the community."
The Creative Action Program at Otis College of Art and Design is an educational initiative comprised of a series of collaborative and community experiences. Students work in trans-disciplinary teams in tandem with a community and/or corporate partner. They focus on team building, researching and addressing the needs of their partners as well as implementing real-world solutions when possible. The goal is to extend the traditional boundaries of the classroom, and respond to community challenges using students' diverse visions.
Partners of the Creative Action Program have included Friends of Ballona Wetlands, the Center for the Study of Political Graphics, the Museum of Tolerance, Homeboy Industries, and Loyola Village Elementary School.
Event
Drive-In of the Living Dead: A screening of George Romero's classic Night of the Living Dead
Lecture by Morgan Woolsey (PhD Candidate in Musicology at UCLA and expert on horror soundtracks and gender)
When
October 30, 2013 - 7:00pm
Where
Otis College of Art and Design
9045 Lincoln Boulevard, Los Angeles, CA 90045
Those with cars will be able to park on top of the Otis parking structure and watch the film projected onto the 35-foot movie screen that will be hung on Ahmanson Hall. There will also be an area roped off on the top of the parking structure for those without cars that would like to bring blankets and chairs. Tune in to FM 96.1 to hear the film through your car or boom box radio. There will be a FREE concession stand set up with popcorn, lemonade, and hotdogs.
Parking will be open at 5:30pm and once you are in, there will be no exiting until the screening has finished at approximately 9:45pm. A lecture will be given at 7:00pm by Morgan Woolsey and will conclude at 7:20pm. Classic trailers will be shown from 7:20-7:30pm and the film will begin at 7:30pm.
This event is OPEN TO THE PUBLIC. Dress as a zombie and receive all the food you can eat.
About Otis College of Art and Design
Established in 1918, Otis College of Art and Design is a national leader in art and design education. The College mission is to prepare diverse students of art and design to enrich our world through their creativity, skill, and vision. Alumni and faculty are Fulbright, MacArthur, and Guggenheim grant recipients, Oscar awardees, legendary costume designers, leaders of contemporary art movements, and design stars at Apple, Abercrombie & Fitch, Pixar, DreamWorks, Mattel, Nike, and Disney.
 
Otis enrolls approximately 1,100 full-time students, and offers Bachelor of Fine Arts degrees in Architecture/Landscape/Interiors, Digital Media (Game and Entertainment Design, Animation, and Motion Design), Fashion Design, Communication Arts (Graphic Design, Illustration, and Advertising Design), Fine Arts (Painting, Photography, and Sculpture/New Genres), Product Design, and Toy Design. Otis also awards the Master of Fine Arts degree in Fine Arts, Graphic Design, Public Practice, and Writing.
The five-acre main campus is located on L.A.'s Westside near the beach and LAX; Fashion Design is in the heart of the downtown fashion district; and the Graduate Studios are on the Creative Corridor in nearby Culver City and in the 18th Street Arts Center in Santa Monica.
2,700 adults and children participate in Continuing Education art and design classes and workshops. Additional information is available at http://www.otis.edu.