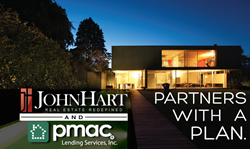 JohnHart has a history built on challenging the status quo.
Los Angeles, CA (PRWEB) May 16, 2014
PMAC Lending Services, Inc. (PMAC), a nationwide mortgage lender, has entered into a marketing services agreement with JohnHart Real Estate, a prominent Southern California Brokerage with over 150 REALTORS®. The agreement, designates PMAC as the preferred mortgage lender for JohnHart, and situates PMAC loan officers in JohnHart offices across Los Angeles County.
"When buying a new car, most people don't obtain financing from a bank and then purchase their new car from the dealership," said Raffie Kalajian, vice president of sales at PMAC. "The efficient approach is to buy the car and obtain financing at the same time, at the dealership. By having access to licensed loan officers, consumers can shop for a house and obtain financing all at once. This creates a streamlined homebuying experience with greater communication, allowing JohnHart's clients to close on their homes faster and with greater ease."
Kalajian continued, "Together, PMAC and JohnHart will provide a seamless, efficient one-stop shopping experience for homebuyers. Our hand-in-hand relationship will offer more financing options and will ultimately increase the simplicity of purchasing a home."
The partnership will enable homebuyers to take advantage of the wide range of mortgage lending products offered by PMAC, while also enjoying the strong local market knowledge of both California-based companies. In order to achieve homeownership, both homebuyers and their real estate agents need a wide variety of home financing options. Partnering with PMAC brings JohnHart customers and their agents nearly any loan option needed in today's homebuying environment – Jumbo and High Balance, Foreign National, USDA, VA, FHA, and 203(k), specialty niche financing options, and more.
"We are very excited to partner with PMAC, one of America's premier lenders. Both our companies differentiate themselves by serving homeowners and future homebuyers with highly professional, personalized and efficient service," says Harout Keuroghlian, CEO, JohnHart Real Estate. Keuroghlian continued, "In PMAC, we found a lender-partner with a broad product line, California headquarters to better serve our local-clients, and exceptional service. PMAC also services 90% of the loans they originate – this enables us to form a life-long relationship with our mutual customers and ensure excellent, and consistent, service for the life of the loan."
Kalajian, commented on the partnership stating "JohnHart Real Estate has a history built on challenging the status quo. Every day, and in every transaction, they are looking for a better way. Whether it's by investing in their agents, protecting their homebuyers, or implementing new techniques to market listings for their sellers, they are constantly looking to add value. Partnering with them was a seamless fit."
Regarding the structure of the partnership John Maseredjian, JohnHart's Director of Business Development, stated "While none of our agents or clients are required to use PMAC's services, and vice versa, the partnership affords our clients access to a wider range of products, quicker turn times, and more efficient service – from a trusted lender."
About PMAC Lending Services, Inc.
PMAC Lending Services, Inc. was founded in 1995. We are a fully approved direct lender with Fannie Mae, Freddie Mac and Ginnie Mae, headquartered in Chino Hills, California. Our retail branches are located nationwide and we proudly service many of the loans we fund. Focused on providing home loans responsibly throughout the communities we serve, our goal is to provide an exceptional customer experience. We are here to help you achieve the dream of home ownership or help you take advantage of today's real estate investment opportunities.
http://www.pmac.com
About JohnHart Real Estate
JohnHart Real Estate is a full-service real estate firm headquartered in Los Angeles and lead by a team of industry experts. Established with the sole purpose of redefining real estate, JohnHart has a proven track record when it comes to experience, support, and success. With an office in Burbank, Glendale, and Sherman Oaks and one more coming in Studio City within the next couple months, JohnHart Real Estate is aiming to have a loan officer in every location – so that agents and homebuyers have access to PMAC's resources across the Valley.
http://www.JohnHartRealEstate.com