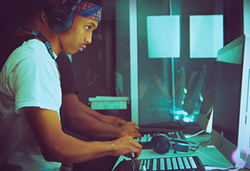 A number of our EMP and Beat Lab graduates have gone on to have lucrative production and performing careers, and we're thrilled to have contributed to their success and helped turn their artistic dreams into reality."
Los Angeles, CA (PRWEB) February 25, 2015
The new Los Angeles campus of SAE Institute, one of America's premier creative media colleges, will offer two short courses throughout the year in Electronic Music Production (EMP) and Beat Lab Production. Each course, which meets twice each week for three months, will introduce students to the studio technology, marketing, and business aspects of the EDM and hip hop genres.
"Students who enroll in our EMP and Beat Lab courses will gain practical insights, skills, and knowledge that will enhance their creative and professional journeys," says SAE Los Angeles Campus Director Justin Pond. "A number of our course graduates have gone on to have lucrative production and performing careers, and we're thrilled to have contributed to their success and helped turn their artistic dreams into reality."
The Beat Lab course is held Monday and Wednesday evenings from 6 to 9:30pm, and the EMP course is held on Tuesday and Thursday evenings from 6 to 9:30pm. To participate, students will need a MacBook Pro and the software programs Logic Pro and Ableton 9 for EMP and Logic Pro and Pro Tools for Beat Lab. No previous experience is required for sign up.
There are a number of 2015 sessions scheduled for each course:

Electronic Music Production – beginning March 3, May 26, August 18, November 10
Beat Lab Production – beginning May 4, August 3, October 26
"Along with the excellent instruction that they'll receive, students in both courses will have free access to our professional studios while studying at SAE," says SAE instructor DJ EVOL, who's an established performer on the national drum and bass scene as well as a producer with releases on prestigious international labels. "The opportunity for our students to learn, network, and rapidly gain valuable experience will be huge."
The Electronic Music Production and Beat Lab Production courses will be held at SAE Institute's newly constructed Los Angeles campus, located at 6700 Santa Monica Blvd. For more information about the two courses, contact SAE Los Angeles at (323) 466 6323.
About SAE
SAE Institute provides aspiring creative media professionals with a foundation of practical theory and valuable hands-on training in their chosen areas of concentration. Under the guidance of our faculty, which is comprised of working industry professionals, students gain the essential experience they need for entry-level jobs in the entertainment business. Our students are supported in their job searches by SAE's international network of alumni, many of whom are leaders in the music, film, game arts, and live performance arenas. We offer programs in audio technology across our seven US campuses, along with a music business program at select locations, all fully accredited and focused on preparing students for employment when they graduate. Bachelor's Degree programs in Animation, Audio, Film, Game Art & Graphic Design are available at the two locations of Ex'pression College, which is owned and operated by SAE Institute Group, Inc. SAE Institute Group, Inc. is a part of Navitas LTD. Learn more at USA.sae.edu.
About Navitas
Navitas is an Australian global education leader, providing pre-university and university programs, English language courses, migrant education and settlement services, creative media education, student recruitment, professional development, and corporate training services to more than 80,000 students across a network of over 100 colleges and campuses in 27 countries. Learn more at Navitas.com.