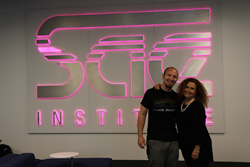 I compared SAE to other schools' audio technology programs, and to be honest, there was really no comparison. SAE was able to answer my questions and show me stats and data that the others couldn't.
Los Angeles, CA (PRWEB) August 18, 2015
Ryan DeRemer, a 2015 Valedictorian graduate of SAE Institute Los Angeles' Audio Technology Program, recorded the track "You Can't Be My Valentine" by Oscar nominee and Grammy winner Melissa Manchester for his student project. The track was produced in the studios of SAE Los Angeles' newly renovated campus on Santa Monica Blvd.
"For my final student project before graduation, I wanted to challenge myself and work with professional talent," says DeRemer. "Melissa is actually my aunt, so naturally I approached her about doing something together. We decided on a previously unrecorded original track that she co-wrote with songwriter Greg Barnhill: as soon as I heard the demo, I loved it. I then recruited four of L.A's top studio musicians for the session, and we were off to the races. It was an incredible and humbling experience, working with people who knew exactly what they were doing and what they wanted, and not accepting anything less than excellence from me. I, along with three assistant engineers, tracked the whole song in one day. It was exciting and my brain was ready to explode by the end, but I wouldn't have it any other way."
DeRemer grew in Newbury Park, CA and graduated from Newbury Park High School in 2004. He grew up in a musical family: his father was a songwriter for Quincy Jones, Ray Charles, Tevin Campbell, and numerous films and TV shows, and his mother was a touring session singer. Many members of his extended family are in the fashion, talent management, and entertainment news businesses.
Though high school, DeRemer sang in regional and national honor choirs, and toured six European countries with the Sound of America Honor Band and Chorus. He also became interested in audio technology, and began producing music for his friends' rap demos in his father's home studio using Acid Pro 4.0, a digital audio workstation. He eventually expanded his studio skills to engineering for up-and-coming local bands and pop artists as well.
"I discovered SAE L.A. after I had studied Music Composition at Moorpark College's Applied Music Program," says DeRemer, who enrolled at SAE in August '14. "I compared SAE to other schools' audio technology programs, and to be honest, there was really no comparison. SAE was able to answer my questions and show me stats and data that the others couldn't."
Two attributes of the SAE experience particularly impressed DeRemer: the school's real world culture and the experienced faculty.
"SAE prepares students for the harsh reality that employers are paying you to do a job, you have to deliver," says DeRemer. "In terms of SAE's faculty, most are working professionals, many with Grammys, Oscars, and Emmys. They choose to teach because they love helping others who are passionate about their craft and want to succeed."
Currently, DeRemers is busy producing, editing, and mixing the music of independent artists; doing live sound for a band called Fantazzmo; recording and narrating a series of children's audiobooks; transcribing sheet music; recording production sound for film projects; and freelancing as a studio tech through his company, Faders Up Studio.
For those who wish to pursue careers in audio technology, DeRemers recommends that they think boldly and be flexible.
"The music industry is constantly evolving, so to survive, you'll need to be a game changer and not get caught in a dying system," says DeRemers. "Create opportunities for yourself, because no one is just going to hand them to you. If you're one of the lucky few who has success fall into your lap, you still have to deliver quality work. Also, don't forget to pay it forward. Support your peers and friends, since you'll need those relationships when the guy who's sitting next to you in class ends up mixing the new Jay-Z track."
About SAE
SAE Institute provides aspiring creative media professionals with a foundation of practical theory and valuable hands-on training in their chosen areas of concentration. Under the guidance of our faculty, which is comprised of working industry professionals, students gain the essential experience they need for entry-level jobs in the entertainment business. Our students are supported in their job searches by SAE's international network of alumni, many of whom are leaders in the music, film, game arts, and live performance arenas. We offer programs in audio technology across our seven US campuses, along with a music business program at select locations, all fully accredited and focused on preparing students for employment when they graduate. Bachelor's Degree programs in Animation, Audio, Film, Game Art & Graphic Design are available at the two locations of Ex'pression College, which is owned and operated by SAE Institute Group, Inc. SAE Institute Group, Inc. is a part of Navitas LTD. Learn more at USA.sae.edu.