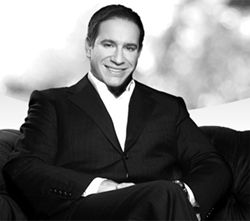 Los Angeles, CA (PRWEB) June 23, 2014
Los Angeles dental implants expert, Dr. Kevin Sands, announced that he is offering a promotion for dental implants. With the option to get affordable dental implants, more area patients can receive the unique cosmetic and restorative benefits of this form of tooth replacement. In contrast to alternative tooth replacements, dental implants require no hardware above the gum line. Because dental implants replace the tooth roots as well as the crowns, they also prevent the jaws from losing density over time. This feature is the key advantage offered by dental implants and serves the health and appearance of patients throughout life.
More patients are choosing dental implants over bridge-supported crowns and removable dentures, the two other common methods of tooth replacement. Because these alternative options do not replace the roots of teeth, they are unable to prevent jaw bone resorption, which can ultimately cause loss of other teeth and deterioration of facial muscles. With no hardware above the gum line, dental implant recipients enjoy a natural appearance and have no difficulty brushing and flossing. As an alternative to removable dentures, dental implants let patients speak and eat without fear of slippage.
The cost of dental implants is higher than that of alternative treatments offered by Los Angeles dental implants expert Dr. Kevin Sands, but this investment is best viewed in terms of its extensive benefits for appearance and health. Dental implants offer facial structure support that may prevent patients from having to seek plastic surgery later. Later in life, patients with dental implants are also better guarded against tooth loss and dementia compared to recipients of other treatments. The dental implant procedure can take multiple appointments over several months depending on individual factors, but the results can last for a lifetime with proper care.
Los Angeles dental implants expert Dr. Kevin Sands has been trained to offer a wide range of cosmetic and restorative dental procedures. As an active member in several statewide and national dental organizations, Dr. Sands is up to date on cutting-edge methods of repairing and enhancing teeth. Patients who visit his office in Beverly Hills receive individual treatment plans tailored to make their teeth look and feel optimal.