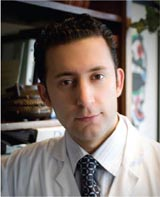 Los Angeles, CA (PRWEB) July 18, 2014
Los Angeles dermatologist, Dr. Peyman Ghasri, now offers Botox for migraines treatment. As a popular cosmetic option for reducing the appearance of wrinkles and fine lines, Botox has also been found to offer relief for patients who suffer from migraines. This treatment is a promising alternative for the many patients whose migraines do not respond to traditional treatment with pain medications. While Botox works well at treating chronic migraines for many patients, it is not effective for tension headaches or occasional migraines in most cases.
About Dr. Peyman Ghasri, Expert in Botox Los Angeles
Dr. Peyman Ghasri is a native of the San Fernando Valley who graduated magna cum laude from UCLA. After attending University of California Irvine on a full scholarship and earning his medical doctorate, Dr. Ghasri trained in general and plastic surgery and completed a residency in dermatology at University of California Irvine. Today, Dr. Ghasri is a noted researcher in his field and provides skilled cosmetic services, including Botox, Juvederm, CoolSculpting and chemical peels, to patients in the Los Angeles area.
Pain medications work for many patients who suffer from migraines, but these drugs are not effective in all cases. Preventive medications are ideal because they can help patients avoid suffering from migraines in the future. Botox is among these preventive options, and its popularity in this population has only increased since 2010, when Botox was approved by the FDA for treatment of chronic migraines. When patients pursue this treatment from Los Angeles dermatologist Dr. Peyman Ghasri, they visit every few months for repeated injections to ensure continuing protection against migraines.
Patients who choose Botox for treatment of chronic migraines get injections every three months. For protection against migraines, the Botox is injected in a variety of points along the forehead, temples, nose, neck, upper back and back of the head. As a result of Botox, chronic migraine sufferers are less likely to suffer from classic migraine symptoms, such as vomiting, nausea and sensitivity to sound, smell and light. Although the treatment is often effective, it can take one to two weeks to begin working, and some patients may require multiple sessions before they begin to reap the benefits of Botox migraine treatment.