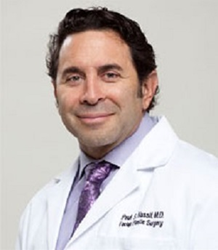 Los Angeles, CA (PRWEB) July 18, 2016
Dr. Paul Nassif announces that he now offers consultations for facial makeovers, which can include a host of different cosmetic treatments based on individual goals. Also called facelifts, facial makeovers can correct birth defects, eliminate signs of aging, and improve the appearance of the face as a whole. Numerous procedures may be used in facial makeovers, including surgical and non-surgical treatments. Rhinoplasty, double eyelid surgery, neck lift, and fillers are just a few of the options that Dr. Nassif offers as part of facial makeovers. During a consultation with Dr. Nassif, patients can learn about all their options for correcting facial flaws.
A number of surgical treatments are commonly used during facial makeovers to correct flaws from the neck upwards. For example, patients may benefit from a neck lift to eliminate the sagging that often comes with age. Rhinoplasty can be used to correct a variety of nose defects, including deviated septum and dorsal hump. With Asian eyelid surgery, patients can have a natural-looking crease created to enhance how their eyes are framed. For improvement of the brow, including the reduction of worry lines, brow lift surgery may be indicated. Of course, several other procedures are available to address other cosmetic complaints.
Non-surgical treatments are popular for improving facial appearance with little or no recovery. Depending on the cosmetic issues involved, patients desiring a non surgical facelift commonly receive injectable fillers that can correct bumps and increase volume where necessary. These fillers can be used in several ways, including to change lip size or shape, resolve sunken cheeks, and increase chin prominence. As an alternative to traditional rhinoplasty, which involves surgery, some patients also prefer non surgical rhinoplasty.
Dr. Paul Nassif, a provider of celebrity nose jobs, is a noted specialist in ethnic and revision rhinoplasty. With an eye for aesthetics and highly refined surgical skills, Dr. Nassif optimizes appearance, as well as functionality at his clinic. Also a specialist in endoscopic surgery, Dr. Nassif works to give patients the best possible results while minimizing scarring. Dr. Nassif is affiliated with multiple major California hospitals and medical schools and is a reputable member of several organizations in his profession, including the American Medical Association and the California Society of Facial Plastic Surgery.