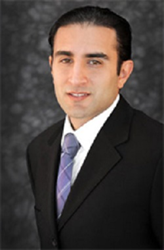 Los Angeles, CA (PRWEB) July 22, 2014
Los Angeles orthodontics expert, Dr. Allen Yaghoubzadeh, today announces that he is offering a promotion on Invisalign. During the present promotion, which lasts until July 31, 2014, patients can visit the office of Dr. Yaghoubzadeh for a complimentary Invisalign consultation worth $2,495. The promotion, which cannot be combined with any other offer, gives patients a chance to find out if they are candidates for Invisalign and learn about how this treatment can enhance their appearance, comfort and oral health.
About Dr. Allen Yaghoubzadeh
Los Angeles orthodontist Dr. Yaghoubzadeh is an area native who attended USC, where he earned his undergraduate and doctorate of dentistry degrees before completing specialized orthodontic training on the East Coast. Having trained in the areas of dentofacial orthopedics, orthodontics and craniofacial biology, Dr. Yaghoubzadeh is qualified to offer Los Angeles patients a superior level of care with the latest technology available. Patients who visit the office of Dr. Yaghoubzadeh also have access to a Los Angeles emergency dental care specialist, a periodontics expert, and an endodontics expert, giving them a comprehensive oral health resource in one convenient location.
The benefits of Invisalign include superior aesthetic support, easier oral health maintenance and greater comfort during treatment. Because the aligners are made of clear plastic instead of shiny metal, patients can count on avoiding unwanted attention while their teeth are being repositioned. The lack of brackets also reduces accumulation of cavity-causing food particles and bacteria. With the ability to remove the aligners as necessary, patients can brush and floss as usual on a daily basis. The comfort associated with Invisalign is thanks to the smoothness of the aligners, which are far less likely to cause abrasion in the mouth compared to the brackets and wires that accompany traditional metal braces.
Candidacy guidelines are fairly straightforward for Invisalign treatment, but all patients who are interested in this orthodontic option should visit the office of Dr. Yaghoubzadeh for a consultation to find out if they can receive it or not. The full Invisalign treatment is designed for individuals whose jaws have finished developing, which excludes younger adolescents from eligibility. Because modern Invisalign can address virtually all common bite irregularities, most adults qualify for this treatment. In some cases, Dr. Yaghoubzadeh may recommend the use of other orthodontics alongside Invisalign to support the total satisfaction of patients.