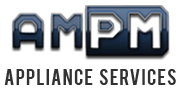 Los Angeles, CA (PRWEB) October 04, 2013
AM PM Los Angeles Stove Repair now offers services in the Los Angeles area. AM PM's highly qualified technicians are factory trained and certified to install, service and repair all types and brands of cooktops, ranges, stoves and ovens. Stoves are essential kitchen appliances, but malfunctions or worn parts can render them unusable or even unsafe.
Los Angeles stove repair company, AM PM, can repair stoves that do not turn on, heat unevenly, have wiring problems, gas line obstructions and other issues. Stoves that make clicking sounds or no sounds and burners that are not working, not hot enough or not igniting can also be repaired. Getting a stove functioning again requires an accurate diagnosis and the ability to repair the problem safely and correctly. AM PM Los Angeles stove repair company technicians have extensive experience and can quickly and efficiently help clients get back to their normal daily routine.
The technicians of AM PM Los Angeles stove repair company are qualified to deal with virtually all major and minor stove repair issues. Replacing a stove that has nonfunctioning or malfunctioning burners or parts can be an expensive proposition. It can also be inconvenient since home- and business owners will not only have to wait for the new stove to be delivered and installed but will also have to figure out how to dispose of the old stove. AM PM technicians can often save homeowners and business owners time and money by enabling them to repair the problem rather than replace the stove.
About AM PM Stove Repair Los Angeles
AM PM Los Angeles stove repair company has highly trained technicians that are fully bonded and insured. Their staff is skilled and always prepared to offer top-quality service at an affordable price. They have offered their services throughout the Los Angeles and Ventura County areas for more than two decades.
Service calls are complimentary with the recommended repairs, and all technicians carry factory-authorized parts and equipment when making service calls so that downtime can be minimized. They can service any make and model of appliances, including stoves, cooktops, ranges, ovens, dryers, washers, freezers, dishwashers and garbage disposals. AM PM technicians stand behind their work and offer an optional warranty.
Website: http://www.stoverepairlosangeles.net/
Press Release by http://www.avitalweb.com/
Kevin Neman
(818) 205-9300