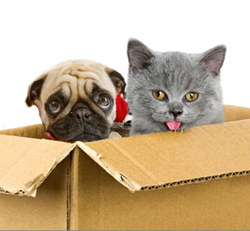 (PRWEB) February 07, 2014
Melrose Moving Company has released a blog offering tips for moving with pets in Los Angeles.
Moving with pets can be difficult, especially during a long-distance relocation. Clients need to ensure the best comfort for their animal companions. Animals may get nervous and agitated during a trip. Clients have to make sure their pets travel in safe conditions and in a friendly environment. Before relocating with pets, clients should read some tips offered by a professional moving company.
When moving with pets, some preliminary operations are necessary. Pet owners have to take their animals to the veterinary doctor for a medical check-up. The doctor can also recommend some sedatives which he or she alone can administer. sedatives can help calm down animals who get easily stressed during a trip.
Traveling conditions have to be in order so that a pet will not be stressed. Sometimes, a cage is necessary, but if possible, large animals like cats and dogs should be kept in the front seat of the car or near their owners. Moving companies can provide safe moving conditions for animals. They can offer packing and transportation services that will make a relocation faster and simpler.
"Moving with pets is never easy. Moving companies in Sherman Oaks ar prepared to offer the best moving services for pet owners!" said Russell Rabichev, Marketing Director for Melrose Moving.
Melrose Moving Company is a Los Angeles-based residential and commercial moving company. Originally established in 1999, and has been so popular that the owner started various other moving companies, such as 1 Los Angeles Movers, Movers Los Angeles, and Los Angeles Commercial Movers, all of which are operated by Melrose Moving. The moving company is licensed by the Public Utility Commission (PUC), and has an A rating with the Better Business Bureau (BBB). Melrose Moving accepts cash, checks, credit cards, and Paypal.
For more information, click on http://shermanoaksmovingcompany.com/. Call now: 1.800.431.3920.