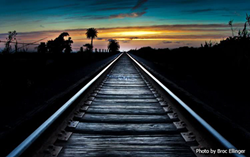 Four Brix Winery is just a short trip from Los Angeles, by car or train.
Los Angeles, Ca (PRWEB) February 04, 2014
For those on day trips to Ventura, Four Brix Winery offers an enjoyable experience to supplement its guest's visit to Ventura with locally made wine. On Friday, February 7th, from 6-8pm, Four Brix Winery will host an event featuring author JulieAnne O'Connor for the signing of her book, "Spelling it out for your Man." Scratch Food Truck and Desserts to Die For will be at the winery from 5-8pm for delicious food and dessert. Glasses of wine will be $8 all night.
"The day trip from Los Angeles will begin with a full production winery at Four Brix, but does not need to end with us. In our neighborhood we also have Plan B Cellars, and Panaro Brothers Winery, who both make the wine near us in Ventura. If one becomes thirsty for some suds later in the day, Surf Brewery is a great place to unwind with some Ventura-brewed beer," says Gary Stewart of Four Brix Winery.
Taking the train from Los Angeles to Ventura makes for a great day trip to visit not only wineries, but also breweries, and take in some sights along the Ventura beaches. The Surfliner with Amtrak allows one to unwind and take in the views of Los Angeles and the coastline of Ventura County. The train ride will take less than 2 hours from Union Station (LAX) to the Ventura Fair Grounds (VEC) and bikes are free to bring along. Once people arrive in Ventura they can easily do a bike tour around the area or set up a tasting tour with many of the area's Wine Tours, making the trip from Los Angeles to the Winery a complete adventure.
About Four Brix Winery
A Los Angeles winery in Ventura, Four Brix Winery specializes in internationally-inspired wine blends. We produce wines based upon our four favorite grape growing regions: Italy, France, Spain and California. The word "Brix" is a term for measurement of sugar in grapes; therefore Four Brix equals four sweets spots for great wine! With a total production of around 1,000 cases, these wines are very limited and in high demand. When we aren't making wine, we like to hang out with a glass of wine, listening to music and eating great food. Our favorite place to hang out is at the BrixHouse- our tasting room, but we don't like to hang out alone, so we make sure there is always something going on at the BrixHouse.
For help planning a visit, booking reservations, or providing suggestions for activities, feel free to contact Four Brix Winery.