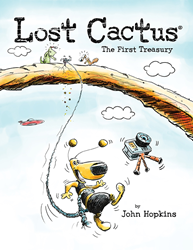 "'Lost Cactus' is a boundless shared universe that embraces many aspects of American pop culture. If you're laughing while increasing your uncommon knowledge, then I'm doing my job."
TRABUCO CANYON, Calif. (PRWEB) September 14, 2016
Cartoonist, author, and graphic artist John Hopkins announces the availability of his first comic strip anthology, "Lost Cactus - The First Treasury," as full-color print and interactive e-book editions. This "enhanced-reader anthology™" from Hopart Publishing won the 2016 IPPY Silver Medal in the Graphic Novel / Drawn Book category in Chicago at the Independent Publisher Book Awards earlier this year.
While Hopkins' original inspiration for "Lost Cactus" dates back to the early 1990s, it was not until 2013—when he noted a general decline in comic strips and the roadblocks thrown before new artists—that he resurrected his genetically-created bee and dinosaur comic strip idea. Further, he determined that the standard syndication route or producing a web-based strip were not for him. Hopkins instead chose to leverage the burgeoning self-publishing industry to create anthologies of his original "Lost Cactus" comics. This decision sparked the realization that he could extend "Lost Cactus" beyond the strips by including concept art, drawings, shared universe short stories, satirical essays, and interactive content, thereby making his books more eye-catching, thought-provoking, and entertaining for readers searching for a new comic strip to follow.
"Enhanced-reader anthology" is the phrase Hopkins uses to describe his unique framework. His first book, "Lost Cactus - The First Treasury" lampoons the shadowy government world that operates beyond the realm of public knowledge. The follow-up anthology, "Lost Cactus - The Second Treasury," is scheduled for release December 2016 by Hopart Publishing, supported by a Kickstarter campaign that launches today, September 14, 2016.
Hopkins believes his method of publishing comics direct to anthologies supplemented with creator content is a marketable way for comic strips to stay viable and relevant in the digital age. More anthologies, games, merchandise, shared-universe graphic novels, and an animated series are all part of the future plans Hopkins has in store for "Lost Cactus."
Key Highlights

"Lost Cactus - The First Treasury" is 196-pages, full-color, and includes 171 comic strips.
ISBN: ISBN-13: 978-0-9965067-5-5 (8.5"x11" U.S. Trade Paperback); eISBN-13: 978-0-9965067-0-0
Storyline: On a far-flung parcel of government land situated somewhere in the vast reaches of parched American Southwestern desert sits an abandoned and long-forgotten government facility. At least, that is what the shadowy agency—that operates there to this day—wants everyone from presidents on down to John Q. Public to believe.
The Characters: plucky Bentley the Bee; quick-witted Ty the Dinosaur; mysterious scientist Doc; accident-prone Sammy the Squirrel; irascible General Fox; popular medical officer Penny; loopy Professor Otto; the resourceful Cato the Alien; together with ubiquitous lab rats, clone zombies, animated cacti, loquacious birds and lizards, self-important celebrities, and nosy politicians.
Supporting Quote

John Hopkins, Orange County Calif., cartoonist, author, illustrator, fine artist, and owner of creative design firm HopArtInc.com, says: "My goal is to create an iconic American comic strip that resonates in the modern, high-tech world. 'Lost Cactus' is a boundless shared universe that embraces aspects of American pop culture revolving around: top-secret government programs, paranormal, urban myths, and conspiracy theories. If you're laughing while increasing your uncommon knowledge, then I'm doing my job."
Digital Assets

Supporting Resources

Tags / Keywords: comicstrip, iBooks, aliens, bigfoot, dinosaurs [See Media Kit p13]
Tweet: #Creative #NewComics #ComicStrip #LostCactus on #iBooks & #Amazon + #Donate on #Kickstarter http://kck.st/1QcTOLf
About "Lost Cactus" Cartoonist / Author John P. Hopkins
John P. Hopkins is the brains behind the "Lost Cactus" comic strip. He weaves an eclectic mix of topics—from sci-fi, paranormal, and technology-fueled content with on-trend cultural, political, and celebrity-focused news items, into off-beat short stories and acerbic commentaries. A professional illustrator, designer, writer, and proprietor of a successful design studio with a diverse clientele for more than 20 years, Hopkins draws upon his experience while crafting "Lost Cactus." His caffeine-fueled imagination—and gift for seeing the comically absurd in almost anything—provide the grist for his strip's plotlines and extensive backstory. As a life-long comic strip fan, he is proud to contribute "Lost Cactus" to this quintessentially American art form. He is a member of the Independent Book Publishers Association (IBPA), the Southern California Independent Booksellers Association (SCIBA) and the Alliance of Independent Authors (ALLI). "Lost Cactus - The First Treasury" is published by Hopart Publishing.
# # #
©2016 Hopart Publishing. All rights reserved. Lost Cactus and enhanced-reader anthology are trademarks of Hopart Publishing.