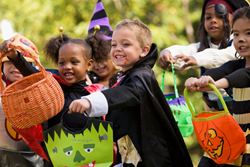 DUNCAN, Okla. (PRWEB) October 19, 2018
It's October in Duncan, the Heart of the Chisholm Trail, which means exciting times at the rodeo, trick or treating, and more! With such a wide range of entertainment and options, you'll find no shortage in events to keep the whole family busy over the next two weekends in Duncan, OK.
This Saturday, October 20, bring family and friends to watch the Prairie Circuit Finals Rodeo, hosted by Chisholm Trail Prairie Circuit Committee, at the Stephens County Fair & Expo Center. The top cowboys and cowgirls that competed in the Oklahoma, Kansas and Nebraska Prairie Circuit will converge for their chance to become the 2018 Prairie Circuit Champion in their respective events. Rodeo fans will get to experience action-packed rodeo events, with proceeds from the event benefitting the Relay for Life / American Cancer Society and the Taylor Le Norman / McCasland Cancer Center. Tickets are available for purchase at Crutcher's Western Wear.
On Saturday evening, you'll find your chance to get all dressed up in your spookiest or craftiest costume for DLT's Midnight Masquerade. From 8:00-11:00 PM at Butterfield's Ballroom on Main Street Duncan, those 21 and over can have a ghoulishly good time with dancing and drinks, with proceeds helping Duncan Little Theatre, our local, non-profit community theater. Tickets will be sold at the door for $10.00 per person.
Rounding out the weekend of Oct 20-21, you'll find the Chisholm Trail Heritage Center workshop, "Writing from Historical Objects." The event will offer participants the chance to read historical-document poems by several contemporary American poets and then write their own. Attendees can plan on using an item in the Heritage Center collection or bring their own "historical" – personal, familial, or cultural – photo, document, or object for you to use with the writing prompt. The workshop will be led by Beth Robinson from 1:30-3:30 PM on Sunday, Oct 21 at the Chisholm Trail Heritage Center. Robinson is an award-winning Oklahoma author and poet who teaches writing at Oklahoma State University in Oklahoma City. She taugh in the English Department at Oklahoma City University for nine years, and at Northern Oklahoma College, Rose State College, the University of Oklahoma Continuing Education program, Moore-Norman Technical Center, and the OCU Red Dirt MFA program. Registration for the workshop is not required, but is appreciated. To register, call (580) 252-6692, or email: info(at)onthechisholmtrail.com.
The following weekend, you'll have a frightfully great time in Duncan at a number of events, including the GOP Chili Cook-off, Main Street Duncan's Boo Review, and SWORA's Annual Fall Model Train Club Open House.
Make plans to attend the Annual Fall Model Train Club Open House on Saturday, October 27. From 10:00 AM-4:00 PM, guests will be able to see operating layouts in O, HO, N, and Z gauges - BIG trains and tiny trains. Families are welcomed to bring parents, grandparents, children, grandchildren, and great-grandchildren to enjoy their trains at the SWORA Club House. For more information, please contact Rick at (580) 255-4310.
Bring your adorable little witches and goblins to the annual Boo Review on Main Street Duncan on the 27th as well. Beginning at 11:00 AM, merchants will have trick-or-treating for the kids in costumes till 1:00 PM. There will also be a pumpkin carving contest hosted at Boomerang Diner, with proceeds benefitting the Stephens County Humane Society; whichever pumpkin receives the most "votes" using dollars is the winner. Costume contests will begin at 12:00 PM. The pup costume contest will take place at 9th & Main, with the child's costume contest at 10th & Main. The first 100 registered participants receive a goody bag and all children receive a participation ribbon. Awards will be given for a variety of categories ranging from best Group Costume to Most Unique!
From 6:00-9:00 PM on Saturday evening, the Stephens County GOP is proud to host the Annual Chili Cook-Off featuring live music, carnival, games, and more. They'll also have drinks, hot dogs and 20 types of chili on hand to try! Swing by with your family, let the kids to go "trick or treating" and the parents can enjoy some chili. Guests will be able to meet your local elected officials, republican candidates, and vote for your favorite chili. Tasting cups for chili are only $1 per person. Event held at the Stephens County Fair & Expo Center.
For more information regarding all upcoming events, please contact Shania at the Duncan Convention & Visitor's Bureau at 580-252-2900 x 240.