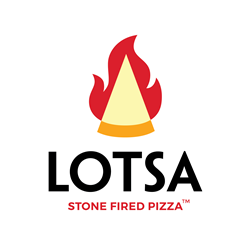 "Our Build-Your-Own and Signature pizzas are prepared quickly and baked to perfection in just 150 seconds."
Pittsburgh, PA (PRWEB) June 20, 2017
Lotsa Stone Fired Pizza, the fast-casual artisanal pizza concept, known for its fresh ingredients, late night hours, and super-fast bake time announced that it will open on the corner of Forbes and Atwood in the Oakland section of Pittsburgh on Wednesday, June 21.
To celebrate the grand opening, the Oakland restaurant will offer $3.00 pizzas to all customers visiting the store on June 21, between 11:00 a.m. and 11:00 p.m. who follow Lotsa on social media.
"Our concept is simple and fast," said Anthony DiGangi, Chief Operating Officer, Colmont Restaurant Group, LLC. "Our Build-Your-Own and Signature pizzas are prepared quickly and baked to perfection in just 150 seconds."
The highly anticipated restaurant features a 2,350-square foot interior with seating for over 50 people, garage doors, and a custom stone-fired oven from Italy. Lotsa will also partner with local sports teams, university organizations, and charities to host fundraisers where 20% of sales will be donated.
DiGangi also stated "We are excited to open in Pittsburgh, especially in the vibrant Oakland neighborhood. It's a fun and energetic part of town which is exactly what Lotsa is all about. We are also thrilled to be Oakland's newest late-night food option."
Hours of operation are from Sunday through Wednesday 11:00 a.m. to 11:00 p.m. and to accommodate student schedules, Lotsa will have extended hours on Thursdays, Fridays and Saturdays, staying open from 11:00 a.m. to 3:00 a.m. The new location will also accept Panther Funds, making it even easier for Pitt students to enjoy Lotsa.
Lotsa is currently hiring for several positions at the Pittsburgh location. To learn more about Losta, visit http://www.lotsa.com or http://www.facebook.com/LotsaPittsburgh
Established in 2015, LOTSA is a fast-casual pizza restaurant that specializes in offering customizable, fast pizzas and salads with freshness and ingredients to the customers' satisfaction. LOTSA has seven locations with more slated to open throughout the year. LOTSA currently operates in six states: Pennsylvania, Michigan, Indiana, Maryland, West Virginia and Wisconsin with corporate offices in Glenwood, MD.