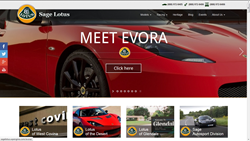 At Sage Lotus, customers can test vehicles in a way no other dealership can offer."
Los Angeles, California (PRWEB) December 18, 2014
Sage Lotus, the premier retailer and distributor for Lotus in California, is now allowing customers to test high performance sports cars and roadsters in a way like no other dealership. The company recently opened Lotus of the Desert, the first ever Lotus dealership on a racetrack located in Thermal Club California. Customers can use the racetrack to test the power, acceleration and speed offered by the Lotus vehicles and compare it with other cars.
"We deal in models like the Elise, Exige and Evora. All are performance model vehicles for consumers looking for raw power and the excitement of speed. Sage Lotus caters to people exploring the best performance model vehicle. Here are the cars that can truly delight the car enthusiasts. On the racetrack, they can enjoy driving unlike before," commented a senior manager with the dealership.
Car enthusiasts looking for a Lotus Exige for sale can walk into the Sage Lotus car dealership in Los Angeles. Lotus Exige is a high performance vehicle that is a joy to drive. Specifically focused on racing, the car details a continuity of the Formula 1 inspired scheme. The driver and passenger environment in Lotus Exige evokes the spirit of competition. The car is loaded with extras such as Dynamic Performance Management System, heated seats and rear parking sensors.
"Lotus Exige is truly a racer's car having the power and excitement," said the company representative. Sage Lotus has a 3.5 Liter supercharged V6 with a 345 HP output and can accelerate from 0 to 60 in 3.8 seconds. For more ride control, the gearbox is controlled by a 6 speed shift on the floor to ensure necessary power is applied to the rear wheels. The aluminum frame puts a lighter weight on the road allowing for speed and acceleration.
Sage Lotus is a Lotus dealership having the largest selection of new high end performance vehicles. The sales staff, committed to serving the customers' needs, is backed by several years of experience. Sage Lotus operates out of 3 locations in Southern California, rolling out Lotus Exige and other cars.
About The Company:
Sage Lotus, a Lotus dealer in Los Angeles, operates Lotus of West Covina, Lotus of the Desert and Lotus of Glendale. They have a 4.5 mile track to test cars at The Thermal Club. Their high end performance cars come in three models called the Elise, Exige and Evora. When it comes to getting the best Lotus price, they are the right dealer.
Contact Information:
Sage Lotus Motors
Sales – (888) 972-8405
Service and Parts – (888) 972-8406
# # #