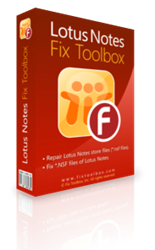 the newest and the most advanced Lotus Notes fix solution on the market.
Sacramento, CA (PRWEB) August 15, 2013
Fix Toolbox, a renowned expert in the field of data recovery and file repair http://www.lotusnotesfix.com/ , is pleased to announce the release of Lotus Notes Fix Toolbox, the fastest, most efficient, stable and reliable repair tool for Lotus Notes files damaged in all sorts of data corruption incidents. The new program takes much after its predecessors and the entire Fix Toolbox line of products, but is based on a totally new recovery core that was created from ground-up to deliver top speed and quality http://www.fixtoolboxx.com/products.html. The interface of Lotus Notes Fix Toolbox uses a convenient step-by-step wizard with a minimum of controls on each stage, thus effectively minimizing the probability of a human error during the recovery process. The built-in preview module enable users to see a list of recoverable records and their properties, as well as mark specific items for recovery or exclude them from the recovery list. Recovered Lotus Notes records can be saved either to an existing database or a new one. http://www.lotusnotes.fixtoolboxx.com/
"Lotus Notes may not be the most popular product in the world, but it is still an important collaboration tool used by thousands of businesses across the globe, so as a company developing recovery tools, we couldn't leave this software without attention," explained Boris Bobrov, Senior Product Manager at Fix Toolbox. "Just as all other Fix Toolbox products, Lotus Notes Fix Toolbox has an amazingly simple interface that requires absolutely no experience with data recovery software of any sort."
The free demo version of Lotus Notes Fix Tool is available for download from the official website http://www.fixtoolboxx.com/download.html of Fix Toolbox.