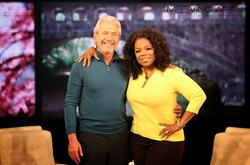 'By partnering directly with agencies and brand champions,' said Schwartzberg, 'I want to make it easier for commercial artists and filmmakers to use great images of nature from all over the world.'
Los Angeles, CA (PRWEB) August 07, 2014
Celebrated filmmaker Louie Schwartzberg's stunning nature, aerial and slice-of-life images have been used in films by Hollywood's biggest directors, including Steven Spielberg, Francis Ford Coppola, Ridley Scott and Oliver Stone. Now they are available to license on his new online motion image library, the Moving Art™ Vault (vault.movingart.com).
From his 3D IMAX film Mysteries of the Unseen World, narrated by Forest Whitaker, to the Disneynature documentary Wings of Life, narrated by Meryl Streep, and the Ultra HD (4K resolution) Netflix series, Nature's Wonders, Schwartzberg's work takes audiences on journeys into invisible worlds that are too slow, too fast, too small and too vast for the unaided human eye.
Now Schwartzberg's award-winning work is available for license in the online Moving Art Vault, featuring 60 hours of material – more than 8,000 motion and still images. An additional 12+ hours of material is added each year. Unlike other stock photography sites, which rely on various and often anonymous contributing artists, the Moving Art Vault is a portal into the mind and heart of a single artist dedicated to helping us fall in love with the natural world.
"By partnering directly with agencies and brand champions," said Schwartzberg, "I want to make it easier for commercial artists and filmmakers to use great images of nature from all over the world."
The online collection features footage from Schwartzberg's career-long library of work and offers a wide range of subject matter, from nature and indigenous cultures, to adventure and Americana. Schwartzberg's new online image vault will inspire a new generation of artists and filmmakers. Available in Apple Pro Res HQ, 35mm, 4K, 5K and 3D, Moving Art™ content will enhance films, mobile apps, commercials, educational initiatives, webisodes, webinars, printed materials and more. To view the library, visit vault.movingart.com.
About Moving Art™ Studios & Louie Schwartzberg
The only cinematographer in the world who has been shooting time-lapse 24/7 continuously for more than three decades, Schwartzberg is a visual artist who breaks barriers to connect with audiences, and tells stories that celebrate life by revealing nature's mysteries and wisdom.
Schwartzberg is also a popular inspirational speaker for corporations and nonprofit groups around the world. He raises awareness about environmental issues through film to inspire audiences ranging from the prestigious TED conference to Oprah Winfrey's Super Soul Sunday.
He is currently creating a short film for the United Nations' Global Summit on Climate Change, and a web series on Gratitude with the John Templeton Foundation. He has earned two Clio Awards for Best Environmental PSA, an Emmy nomination for Best Cinematography among many other accolades.