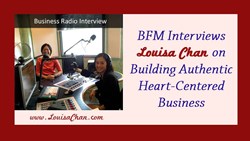 It is my hope that this … will help professionals build sustainable heart-based businesses that they can be proud of.
Kuala Lumpur, Malaysia (PRWEB) October 02, 2013
Business coach Louisa Chan has today announced her participation in a live interview for the "Raise Your Game" program on Malaysia's business radio station, BFM 89.9. A sneak preview of Ms. Chan's interview, in which she discusses her latest eBook on the importance of building a sustainable heart-centered business, is available at http://www.louisachan.com/bfm-interviews-louisa-chan-on-heart-based-business.
In the interview, Louisa Chan discussed the motivation for her new eBook, "3 Essential Pillars For Growing An Authentic Heart-Centered Business", highlighting the need for professionals to build businesses that are purpose-driven and in alignment with their core values.
Louisa advocates a business model that seeks profit with principles, one that allows businesses to build on the fundamentals of delivering value for long-term growth and profit.
When asked why being heart-centered and authentic is important, Louisa explained that it is necessary not only for the business to maintain its credibility and trustworthiness, but also for the business owner's peace of mind. She commented:
"Any person who is not living authentically is at war with herself and this will sap the motivation and energies of both the business owner and her business."
During the interview Ms. Chan offered practical guidance for both the business owner and her bgrowing an authentic business using three time-tested, foundational pillars. Louisa drew on her experience to advise professionals on how they can build profitable businesses that are meaningful and ones that they can be proud of. She explained:
"Smart strategies are necessary for growth and profitability, but are not enough to sustain a business if its fundamental guidelines aren't aligned with the business owner's core values."
Louisa maintains that heart-centered businesses must find an even balance between process and purpose in order to enjoy long-term and sustainable growth.
"More essential than employing strategies and processes to run the business is evaluating why you are doing it," Ms. Chan said. "Only when the business' purpose is clear can you establish the steps to take to reach that goal," she continued.
As a case in point, Louisa demonstrated the importance of marketing for corporate trainers and coaches, as it was her heart-based marketing strategies and well-established online presence that caught the attention of BFM's producers for her recent interview.
"Mindful professional coaches and corporate trainers often mistake marketing for 'selling' themselves and feel that it undermines their professionalism." She continued, "But establishing a credible online presence is actually necessary to maximize exposure, gain media attention and recognition."
Ms. Chan's publicity and her presence as a thought leader on YouTube are the kinds of business-marketing strategies that she consistently implements to complement her purpose-driven, value-based business.
Louisa concluded by saying: "It's my aim to offer support to heart-centered trainers, coaches and teachers so they can use their gifts and expertise to build sustainable, value-driven and purposeful businesses that are profitable."
The complete interview is available for download at http://www.louisachan.com/bfm-interviews-louisa-chan-on-heart-based-business.
About Louisa Chan
Louisa Chan is a well-established, accredited business coach and trainer and has provided consulting services to big brands and multinational companies in various countries across Asia.
Louisa helps mindful professionals establish and grow successful heart-centered businesses through effective online marketing. Currently based in Kuala Lumpur Malaysia, Louisa holds in-person corporate training events and provides online coaching for trainers, teachers and coaches worldwide.
Visit Louisa Chan's website http://www.LouisaChan.com for more information.
About BFM
BFM (FM 89.9) is Malaysia's only independent radio station, focused on business news and current affairs. BFM applies a rational, discourse-based approach to all programming areas such as entrepreneurship, health, fashion, the arts, sports and music, as well as to its executive education initiative, The BFM Business School, and to its digital magazine, The B-Side.