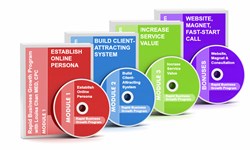 This campaign honors the spirit of independence in coaches and trainers … offering them a tool to achieve the freedom necessary to further the work they are passionate about.
Kuala Lumpur, Malaysia (PRWEB) August 31, 2013
In celebration of Malaysia's Independence Day 2013, business coach Louisa Chan today announces a special discount on her "Rapid Business Growth Program" designed to help coaches and trainers jumpstart and grow their online teaching businesses. In the spirit of celebrating independence for training professionals Ms. Chan is offering a 51% discount on her popular program, available now at: http://www.louisachan.com/rapid-business-growth-program-discount/.
Many trainers, teachers and coaches are looking to start up online teaching businesses or to grow their existing businesses in order to experience the fulfilling rewards of professional and financial independence. However, this process can prove challenging:
"Coaches and training professionals are inundated with information and it can be overwhelming trying to figure out where to start, what to focus on and how to grow a sustainable business," Louisa Chan explained. "With new channels frequently emerging, business owners face constant distractions and can easily find themselves at a loss as to which platforms to use or how to use these most effectively."
Louisa's "Rapid Business Growth Program" cuts through the noise to provide clear and effective advice on business growth for coaches and trainers. This result-oriented training program includes personalized action plans at the end of every coaching call, which serve to help coaches and training professionals focus on getting more clients and implementing only the essentials.
The "Rapid Business Growth Program" has been carefully designed to include components of training, coaching and consultation, as well as resources, systems and structures to support business growth for trainers. This ensures that participants have the necessary skills as well as specific strategies and support they require for rapid business growth.
Louisa is passionate about helping heart-centered training professionals embrace their independent visions and pursue their ideals and dreams instead of serving the visions of others. When asked about her Independence Day special, Ms. Chan explained:
"After centuries spent under Portuguese, Dutch and British rule and a brief Japanese occupation, in 1957 the Federation of Malaya gained independence and Malaysia was able to pursue her own vision, no longer needing to serve the leadership of others.
"As Malaysia today celebrates her 56th anniversary of independence, I am honoring the spirit of independence in coaches, trainers and teachers by offering support to help more professionals jumpstart their own journey to independence." She continued to say, "This campaign provides heart-centered coaches, trainers and teachers with a tool to achieve the independence necessary to further the work they are passionate about."
The rare 51% discount is valid for 3 days until Monday 2nd Sept 2013 and is available at Louisa Chan's website: http://www.LouisaChan.com/rapid-business-growth-program-discount/.
About the Rapid Business Growth Program
The training includes:

Fast-Start Business Evaluation to understand the business owner's current situation
Video based training on digital and social media marketing strategies for effective client-getting
Live consultation with personalized business growth strategies
Personalized coaching to help set winning mindsets and accountability
Website and a lead prospecting system to jumpstart online presence
90-days of direct email support with Louisa Chan
Resources, checklists, templates and technical support to facilitate quick implementation
About Louisa
A highly sought-after certified coach and trainer who has consulted with multinational companies in various countries, Louisa Chan now works with coaches, trainers and small businesses to help them grow heart-centered businesses.
Louisa is currently based in Kuala Lumpur, Malaysia and conducts face-to-face corporate training as well as online training and business coaching for business owners worldwide.
Visit Louisa Chan's website http://www.LouisaChan.com for more information.