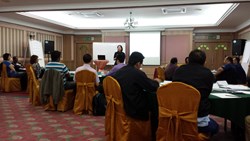 Online coaches and trainers should embrace the trend towards blended training and utilize in-person speaking engagements, coaching workshops and corporate training events to strengthen their credibility and maximize exposure.
Kuala Lumpur, Malaysia (PRWEB) September 12, 2013
Corporate Trainer and Business coach Louisa Chan recently conducted a three-day Enlightened Leadership Workshop on the importance of understanding the inner self and coaching for effective corporate leadership. During the workshop, Ms. Chan explained how leaders from small businesses and large corporations alike can use essential coaching skills to empower their teams and improve workplace performance (information about Louisa Chan's proprietary training program is available here: http://www.louisachan.com/corporate-training-kuala-lumpur/).
Recent studies have highlighted self-awareness as one of the necessary qualities for effective leadership. These findings are consistent with Louisa Chan's view that the ability to understand one's core values, strengths and vulnerabilities is key to leading and growing a successful business. Louisa observed:
"Strong, inspirational leadership begins with a fundamental understanding of the self – when a leader is mindful of himself, he can then inspire and coach team members with far greater success."
Louisa's recent training and coaching workshop catered to hundreds of middle and senior managers, who were trained in batches of 25, and focused on the importance of self-awareness, as well as the four core coaching skills for effective leadership. Ms. Chan then demonstrated how these skills can be used to open up the lines of communication for improved understanding and co-working within a team, particularly with Gen Y team members.
Louisa conducts much of her business training and coaching online and explained that corporate training is set to become increasingly inclusive of online learning methodologies, such as on-demand video based training, as blended training gains traction in Asia.
When asked about her recent in-person corporate training and coaching workshop, Ms. Chan commented on the deliverability benefits offered by in-person training events which can tap into added dimensions and senses that aren't accessible with online training.
"Coaches and trainers should use both online and offline methods as complementary components of their training programs," said Louisa. "Both approaches offer different advantages and it is a mistake to view them as mutually exclusive, particularly as more companies begin to adopt the blended training approach."
Speaking after her Enlightened Leadership Workshop, Louisa Chan explained how in-person training and workshops can and should be leveraged as additional channels of marketing for coaches. She emphasized that the growing number of companies waking up to the benefits of coaching for effective leadership represents valuable new avenues for coaches and trainers to increase their visibility and build their credibility. Louisa concluded the interview by adding:
"It is my hope that online coaches and trainers will embrace the trend towards blended training approaches and utilize in-person speaking engagements, coaching workshops and corporate training events to strengthen their credibility and maximize their exposure."
About Louisa
A well-established, accredited coach and trainer, Louisa Chan has provided consulting services to multinational companies in various countries across Asia.
Louisa helps mindful professionals establish and grow successful heart-centered businesses through effective online marketing. Currently based in Kuala Lumpur Malaysia, Louisa holds in-person corporate training events and provides online coaching for trainers, teachers and coaches worldwide.
Visit Louisa Chan's website http://www.LouisaChan.com for more information.